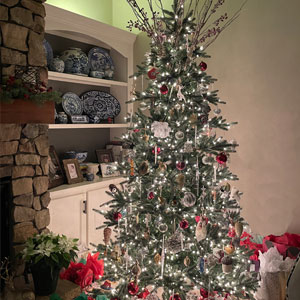 The Waiting Place: Reflections on the Birth of a Design
The holiday season is a busy time for all of us, each with our own traditions. There are gatherings to attend with family and friends, festivities to enjoy and gifts to be exchanged. It can be easy to get caught up in the hustle and bustle even when we do our best to prepare ourselves.
One of the ways that I stay grounded is to dedicate a few minutes each morning to quiet contemplation. Taking a moment of stillness — whether you consider it meditation or mindfulness — is more popular than ever and I understand why. This simple practice inspires feelings of tranquility and ultimately makes me more peaceful as I go throughout my day. With a cup of tea in my hand and my dogs by my side, I take some quiet time to just be.
During the holiday season I like to enjoy this ritual in front of our Christmas tree. With all of the other lights off, the soft glow of the little white tree lights feels festive and a bit magical. One recent morning I sat reading a passage about Advent, which is a season of waiting in the Christian faith, and it got me thinking about the myriad of emotions that I associate with waiting.
When we are in a place of waiting, it is all too easy for feelings of anxiety, fear, and self-doubt to creep in. We can feel lost, without direction. This particular reading, which focused on the story of Mary the Virgin awaiting the birth of the Christ Child, presented waiting as an intimate place between receiving and bringing forth, of movement and stillness, solitude and community.
The author's reframing of waiting as both a place and a necessary pause in a larger series of events brought to mind my own creative process of designing a new home for someone.
In the design process, there are moments of solitude when I just need to linger with the design awhile and let it all wash over me before the solution reveals itself. There are moments of community like sharing initial ideas and images with the clients and then later when they see their custom home design for the first time. In the moments leading up to that meeting in particular, I am often filled with a mix of excited anticipation laced with anxiety about my own creativity. This Advent reading inspired me to acknowledge that realization and to sit with that place of waiting.
It is always my goal to design a home that will be meaningful and supportive to my clients over the course of their lives there. Creating such a home for someone is a deeply personal endeavor. It's not just putting rooms together, it's engaging in an intimate dialogue with the client, experiencing the site and feeling the sense of place that seems right for this home. By imagining the life and experiences that the client will have in the home you are creating, you metaphorically build the foundation for the entire project. It takes time and care to consider the many activities, experiences and moments that they will have in their home, followed by a commitment to design that space to feel special and sacred to them.
There is a tremendous amount of thought and preparation that goes into each design, and I love every minute of it; from the challenges that require moments of pause to the revelations that lead to great progress. Each step is necessary, so rather than give in to the fear or doubt, I stay strong in my dedication to my clients and hold faith in the creative gift that I have been blessed with. When I do that, I can deliver a design with the essence of home that is born out of care, devotion and, quite honestly, love.
But in this season of giving, I am reminded that although my work results in a creative offering to my client, I am actually the one who receives the blessing.
Sending warm wishes to you and yours this holiday season. May you find moments of calm and joy with the ones you love.