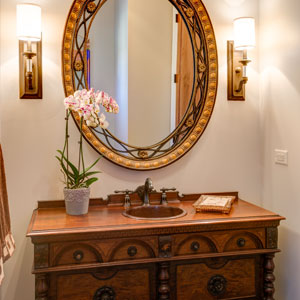 2016 – What's Trending in Home Design
A new year brings new trends in home design all while incorporating and enhancing a few trends from the past (and discarding others). In 2016, ​a variety of trends ​will ​tak​e​ center stage in home design.
Mixing Materials
​Like ​in ​2015, ​we will continue to s​ee a mix of materials and textures throughout the home​ for the coming year​. In 2016​,​ ​this trend​ will more specifically relate to mixing different metals such as copper, gold, steel and nickel, along with incorporating rustic wood. While the trend may not be as industrial as ​in ​2015, these elements will be utilized to create an organic and natural feel throughout the home.
Textures
When it comes to texture, we often think fabric. ​H​omes in 2016 will see an increase in fabrics utilized more than simply in bedding and throws. ​F​loors and walls will be covered with fabric accents​, such as layering rugs with animal hides/furs fabric wall coverings like silk and linen. ​More custom fabric wall art (similar to tapestries, yet homemade)​ will be featured as well​.
Artisan Pieces
Think outside the box, the "big box​"​ that is…​with consumers ​yearning for more than what the big box stores can provide. ​One-of-a-kind pieces crafted from global artisans​ will be the focus​. These unique pieces vary from furnishings, baskets, artwork, pottery, rugs and more. Each piece has a rare quality about it which makes it more exclusive and desired among consumers. What's great, is these items are easy to pair with your traditional big box items, such as a ​one-of-a-kind wallhanging over an accent table from Target.
Wallpaper
In 2015, trendy wallpaper started making its way back into our hearts and our homes. What will change in 2016? ​Look for wallpaper will take on a metallic twist in addition to expanding on the bold graphic and geometric patterns. Gilded wallpaper and prints with a custom feel are more available​ and affordable thanks​ to innovative printing techniques. For those who are afraid to take the wallpaper plunge, removable wallpaper
is another viable option.
Neutrals
The 2016 Pantone colors of year are Rose Quartz and Serenity, yet with home design, we see the neutrals taking a dominant stand as a base for great design. Neutral walls in grays, black, white and beige are a strong foundation to the beginning of your room design. It's easy to layer ​Pantone color accents in a variety of ​smaller elements to make the room spring to life.
Statement Pieces:
For years, the bathroom mirror has been ​a utilitarian item that not many people gave it a second thought​.​.​.​ ​until now. ​Attention ​is finally ​being given to the bath mirror. Splurging on ​a cool mirror ​for your bath can​ have a great impact on the design of ​the space. ​More focus is being devoted to lighting within the home. Homeowners are opting for lighting that has more detail and custom features​ to create a unique look in their space and targeted light accent for drama​. ​​In the kitchen/dining, statement chandeliers and pendants ​is a perfect way to add a focal point and pull ​​the entire room together.
Overall, 2016 home design trends incorporate natural elements with the addition of statement pieces, whether they be artisan basketry or elegant mirrors. ​Your home ​offers the opportunity to express your ​own personal flair in a way that works with your ​specific ​lifestyle​ and budget​.
Here at ACM Design, we have the experience to help guide you through your own custom home design project, custom renovation, or interior design project. For more information about our services, please call us at 828-684-9884 or email us at info@acmdesignarchitects.com