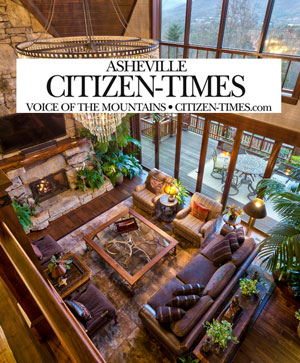 ACM Design Featured in Asheville Citizen-Times
Home of the Week:
Sumptuous Mountainside Estate
TEXT BY JAKE FLANNICK CITIZEN-TIMES CORRESPONDENT
PHOTOS BY ANGELI WRIGHT AWRIGHT@CITIZEN-TIMES.COM
Tucked on a mountainside in South Asheville is a serene property awash in hundreds of flowers and shrubs, all of them neatly arranged, adorning meandering cascades and mulched paths.
But its botanical charm was not always present, emerging only after Marcus and Pearl Katz bought this land years ago.
"It's astonishing," Marcus said of the three years or so the couple oversaw the transformation of their manicured property.
Indeed, their verdant property is delightful, enchanting its share of visitors since the couple started spending warmer months here in 2012. The same goes for their luxurious home and guesthouse, both of which contain several thousand square feet and feature wall-to-wall sliding glass doors opening out onto spacious wooden porches and stone patios that offer sweeping vistas of the mountains.
"Everywhere you turn," said Melissa Stanz, an Asheville marketing consultant and a writer who has visited the house.
Encompassing a little more than five acres, the property is home to more than 500 varieties of plants, many of them native, and mulched paths stretching over about a mile.
Adding to its tranquil atmosphere are cascades and waterfalls whose presence is felt all the way at the edge of the property.
Feeding one of the waterfalls is an infinity-edge swimming pool on a broad stone terrace between their three-story home and two-story guest house. The pool is next to a hibachi grill where the couple have chefs prepare meals. Both the pool and the grill are made with centuries-old stones that came from out West.
Despite its extravagance — the property resembles a luxury resort, with some of its canopy illuminated by lights perched in towering poplar trees and a full-size tennis court lined with shrubs and seating under a vaulted roof — it has a secluded feel.
"You wouldn't know it's there," Stanz said of the property, which is no more than a mile from Roberson High School and less than three miles from Biltmore Town Square.
With the help of local architects and landscape designers, along with a naturalist, the property underwent a dramatic transformation, turning what once was a largely bare landscape into a sumptuous setting. The couple also ended up tearing down the original house, about 8,000 square feet or so, building a bigger, more lavish one. (The inside of the home will be featured in the Aug. 1 Living section.)
The work was extensive.
In addition to creating the gardens and walking paths, the additions involved building a retaining wall to support the tennis court, where Marcus said he hopes to someday host professional players.
"It looked like they were building an expressway," Marcus said of the wall's construction. Like most of the property, though, the wall looks as if it had always been there, covered in vines.
While their property is particularly striking around this time each year, the couple is still planting, expecting a shipment of some 10,000 aspen trees come fall.
"They spent years getting it the way they want it," Stanz said.
TO BE CONTINUED … see the inside of the Katz home in this space on Aug. 1.
To view the original article, visit: Asheville Citizen-Times.