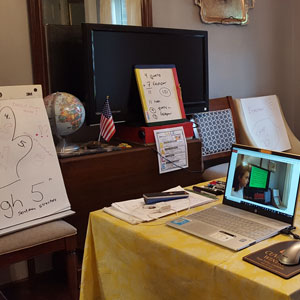 Working from Home
The recent global pandemic has many of us working from home–an opportunity we appreciate if our jobs allow it. Yet, not all of us have a dedicated home office, so we have created makeshift home offices in existing spaces pulling together the necessities to "get by." Here are a few creative ideas for how to make the best of your temporary work space.
Our first piece of advice is not to bring your work into your bedroom. There are many studies that show working from your bedroom, especially working in bed, is not great for your health or your head space. Your bedroom is supposed to be a relaxing space. Science shows that our brains learn to associate our bed with sleep, so simply getting into bed signals to the body that it is time to wind down for rest. Not only can a bedroom office space cause problems for you and your partner with interrupted sleep schedules, but the brain link between bed and sleep can also hamper productivity.
Consider making a work space in a quiet corner of your living room. Choose a spot that feels comfortable, perhaps beside a window for some natural light. Add a plant and even a desk lamp and voila, you have your office. Adding details to make your space "look" like a work space is a visual cue to others that defines its use and implicitly asks them to respect your space and to give you some privacy.
If you need more space to spread out–think architect with sketches and drawings–utilizing the dining room table is a great idea. You can set up at the head of the table with your laptop and organize the remainder of the table for other tasks. Dining rooms work great for home school rooms if you're currently working from home as a teacher! If the dining room is the primary eating space for the family, perhaps you can setup a small folding table or card table for items other than laptop work. This way only work tools on a small part of the table must be put away at mealtime.
Hopefully we will all be heading back to the office soon enough. We'll not only begin the process of reconnecting with our co-workers to collaborate on assignments and share work ideas, but also chatting about weekend plans, showing pictures of our pets, and sharing stories of kids returning to school. At ACM Design, we are all looking forward to the time when we can get out of the house and catch up with friends and meet new clients in person. One day soon we will all be back to normal, healthy and thriving. Stay safe and get to work!