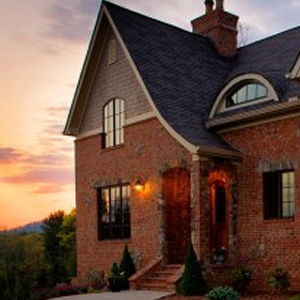 Finding an Architect to Design Your Custom Home
When building a custom home, it is essential to find the right residential architect to transform your vision into reality.  The architect will help you with the design, the technical drawings and specifications, the builder and the entire process of building your custom home.  Before choosing an architect to design your dream home, consider this . . . custom home design is a marriage of creativity, vision and livability.  The team that you put together to create your custom home is critical and you should take your time to make the best decision.
So, where do you start?
The most important steps to finding and beginning a relationship with a custom residential architect can be summarized as follows:
Familiarize yourself with various home styles.  Make a list of space needs for your home.
Purchase your property.
Search online and/or ask for recommendations from builders and friends.
Visit the architect's website to view the work.
Interview the architect.  Does their process mirror your needs and wants?
Contact references.  How was it to work with this architect?  Would you work with this architect again?
Select the architect and work together to create the budget and design that accurately reflects the home you envision.
Begin to think about the type of home you want.  Drive through neighborhoods, take model home or open house tours, and peruse magazines for homes that inspire you.  Familiarize yourself with various styles of homes, including Mediterranean, Craftsman, Traditional, European, Country, etc.  Think about the functional features that you want for your home, such as a large kitchen, open plan, or three-car garage.  Take notes and photos and start a file that you can share with your prospective architect.  It's important that you communicate your ideas, and vision as clearly as possible to the individual you'll be working with.  The real secret to great design lies in close collaboration.  Good chemistry is crucial when it comes to designing a home that will live up to your dreams.
Securing your property early in the process is very important.  The location of your property and its characteristics automatically define a portion of the design parameters for your custom home design.  It is a good idea to search for an architect who is familiar with the area in which you plan to build.  For example, if you live or want to build in the Asheville area, consider finding an Asheville architect who has experience designing custom homes in the area and working with local builders.  Being familiar with the terrain, or topography, a local architect can help you determine the best placement for the home on the property.  This decision can directly affect the overall cost of your new home.  Aesthetically, imagine the advantage of natural sunlight in a great room or kitchen during the day which will also save on energy and utility bills.
Next, compile a list of potential architects.  Searching the web and word-of-mouth referrals are two great resources for finding an architect.  Visiting the architect's website can help you determine if the architect's  style is compatible with yours.  If you have seen a home that you've admired, ask the homeowner who designed the home.  If you already have a builder, ask for recommendations.  Choose architects that are part of the American Institute of Architects (AIA), as this implies a current and state-recognized license.  The AIA features a useful "architect finder" on their web site — www.aia.org
Then, narrow your list to few architects you determine are the best match and set up interviews.
Clear communication is imperative, so don't be afraid to ask the hard questions up front.  How do they charge for their services?  What is a realistic timeframe for completing the architectural work and for completing the construction?  Do they sell their custom plans later on as stock plans?  How often are you allowed to meet during the various designing stages?  Is the architect familiar with construction costs?  Are changes to the plan allowed after construction begins?  Is there a charge?  Do changes go through the builder or architect?
Personality is also important.  Ideally, the relationship between client and architect must flow smoothly.  Clear communication is key.
If you are serious about a particular architect, ask to visit completed homes or homes under construction that the architect has designed.  Also, ask for references . . . and be sure to call the references and ask questions.  How was it to work with this architect?  Did the architect listen to your ideas, needs, etc. and act as your advocate during the process?  Did the architect guide you in making decisions to keep you within your budget?  Was the end result what you expected?  Would you work with this architect again?
Finally, select the architect that you feel is the best match for you and for your project.  The real answers are found in the connection with the architect and in the work itself.  After all, this is the individual who'll be translating your vision into reality and it is crucial that you communicate, and collaborate, effectively together.
Remember, designing and building a custom home is a personal journey that allows the freedom to create exactly what you want for your home.   Whether your ideas are still in your head or a series of magazine clippings or sketches, choosing a qualified residential architect is the necessary first step for success to create the home that best represents your personality and becomes the home of your dreams.