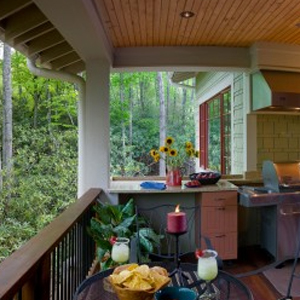 Entertain in Style with Custom Outdoor Kitchens
Nothing enhances a backyard, patio, or deck like an outdoor kitchen. Offering casual entertaining in a gorgeous setting makes custom outdoor kitchens a popular trend in outdoor design.
Before building an outdoor kitchen, think first about how you plan to use the kitchen. How will you use your outdoor kitchen? Do you need an entertaining space or just an open place to grill food? Do you plan to cook for several people or only yourself? Do you need appliances, other than a grill, to meet your cooking needs? Building an outdoor kitchen requires precise design and consulting a custom home architect or interior designer is recommended before any outdoor kitchen construction begins. By offering innovative design expertise and knowledge about outdoor products and materials, an architect can help you maximize available space and design your outdoor kitchen with your specific wants and needs in mind.
Once you have decided how you plan to use your outdoor kitchen, it is important to familiarize yourself with the trends and products available. For those looking to create an entire outdoor entertaining space there are several factors to bear in mind:
Positioning. Think about the position of an outdoor kitchen in relation to the kitchen inside your home. Depending on the outdoor appliances you choose, you might still need to make frequent trips indoors. Since carrying heavy items for a long distance is not ideal, it is best to minimize the distance between the outdoor kitchen and the indoor kitchen.
Seating. Comfortable outdoor furniture, such as sofas, chairs, dining tables, and bar stools, is an important consideration for any outdoor gathering space. Think about how many guests you generally entertain at once to determine how large the seating area should be and plan the amount of outdoor furniture accordingly. Keeping the seating area in proximity to the outdoor kitchen keeps both guests and the chef in the conversation.
Overhead Structure. Whether to provide shade or to protect against the elements, think about incorporating an overhead structure, such as pergola or solid roof, into the design of your outdoor kitchen.  Overhead structures also give a place to install ceiling fans or lighting, allowing more creature comforts and longer entertaining times.  Aesthetically, building an overhead structure helps define the outdoor gathering space, giving a sense of privacy.
For the latest product choices, consider the following trends when building outdoor kitchens:
Electronics. All-weather televisions and speakers are available to enhance your outdoor entertaining space. Families and friends can enjoy a delicious meal and then watch a big game or movie outside in surround sound.
Recycling Stations. Make it easy for cans and plastic bottles to be recycled by eliminating the need to throw everything away inside. Set up a separate outdoor recycling station with a built-in drawer or under-counter space.
Beverage Chillers. Wine chillers for red and white wines, keg taps, refrigerators and ice makers are all available for outdoor use and can add a sleek and polished finish to your kitchen, not to mention improve functionality.
Pizza Ovens. Kids and adults alike enjoy a stone-fired pizza and they make a popular addition to any outdoor kitchen.
Freezer Drawers. Perfect for hot days and serving chilled desserts, freezer drawers take advantage of small spaces with a practical purpose.
Hybrid Grills. Enjoy the convenience of gas with the great taste of charcoal. Hybrid grills save energy yet provide the best of both worlds.
Whether you are an artisan chef looking for a new place to create your next masterpiece, or just enjoy a lovely setting for a casual barbecue, installing an outdoor kitchen can be an exciting and stunning addition to any home.