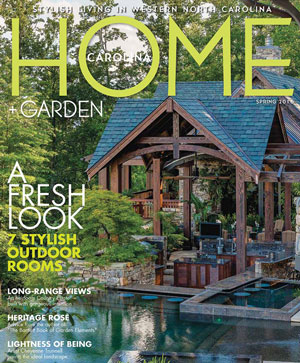 Cover Article: A Fresh Look at Outdoor Rooms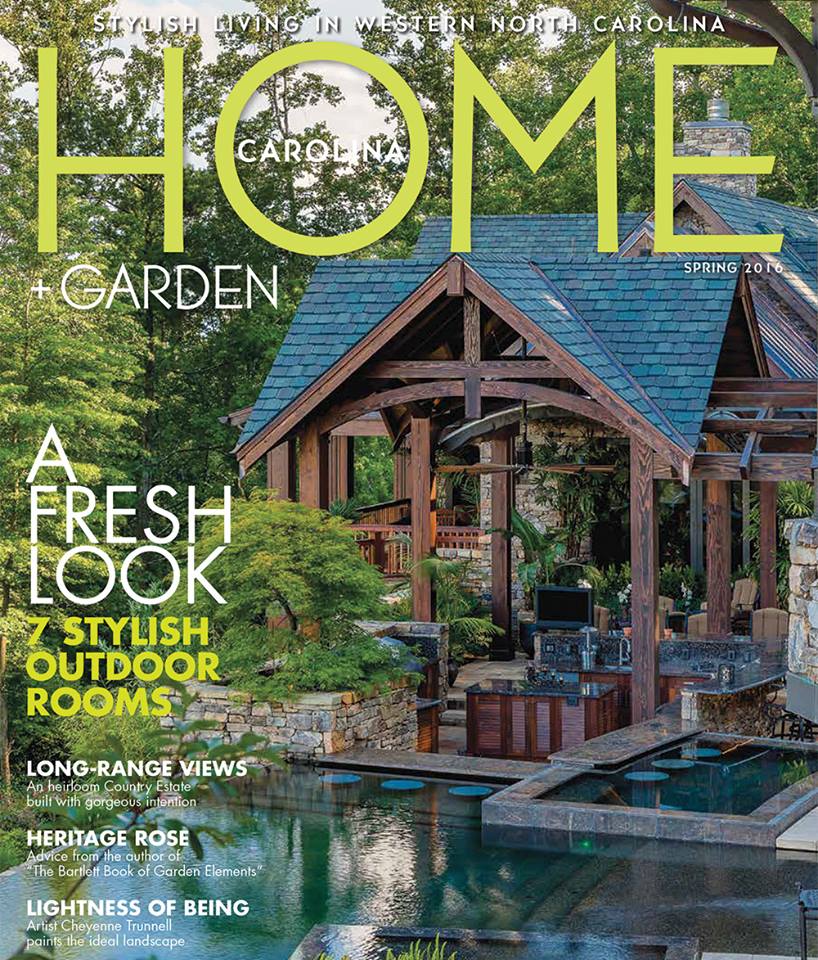 A Thirst for Magnificence
Firm Gets Carte Blanche to Transform an Old Carriage House
by Melanie McGee Bianchi
Photos by Kevin Meechan
REPRINTED WITH PERMISSION
Among the liquid extras designed to enhance life and leisure on this dream property are a dramatically terraced series of water features — one standalone falls drops 12 feet from its source — and a paradise pool. The latter is the recreational high point; wrought by Medallion Pool, it features an area for lap exercise and, most festively, a swim-up bar. Really, the whole concept is intoxicating: used as a connector between the main house and the guest house, the outdoor spread is grandly niched for long, memorable afternoons. The full summer kitchen includes not only a grill but foodie-centric extras including a pizza oven and a beer tap. Recessed tastefully into the site, it fulfills the space's intention as a fully appointed retreat.
But the home's emotional anchor is its superlative, multifaceted  water feature. Designed by Steve Robbat of Waterspirit, Inc., and the recipient of an HGTV award — check out www.waterspirit.com to see the video honoring this distinction — the 300-foot linear creation of falls and streams required more than 175 tons of boulders to build. The cascade "wends its way down the hillsides and under the driveways and numerous walking paths," notes Robbat. A bit of real-time trompe-l'oeil is at play: one part of the stream appears to be entering and exiting the swimming pool, although it's just an eye trick.
What's not illusory is the amount of behind-the-curtains toil it takes to realize something of this caliber. "We designed and built a 100-foot-long dry creek bed using large boulders and stones, to help channel rain run-off," explains Robbat. Waterspirit also created rock outcroppings and planting areas in various places around the property — think of them as the brush dabs that finished the masterpiece.
The look: Modern-rustic, sophisticated mountain spa
The location: South Asheville
The luxe factor: Big-wow water feature, lap pool, swim-up bar, spa and sunbathing areas, arched timber pergolas with retractable shades serving as separate entertainment areas (one for pool-watching and bar activities, one for more formal gatherings).
Resources
Architect: Amy Conner-Murphy, ACM Design Architecture & Interiors
Builder: Will Walker, Mountain Custom Homes
Landscape Architect: Clay Mooney, Design Associates Landscape Architecture
Waterfall Features: Steve Robbat, Waterspirit, Inc.
Stonework: Dale Pressley, Pressley Dale Stoneworks
Wood Timberwork: Ben Walker, Pride Builders
Furniture: Molly Silverstein, Interiors by Steven G
Pool: Medallion Pool
Exterior Lighting: Chris Wakefield, The Outdoor Lights
Countertops by Stone Connection Granite Interiors.
The original article appeared on the cover of Carolina Home & Garden. 

More details about this project are available in our Portfolio, Modern Rustic Mountain Estate Home