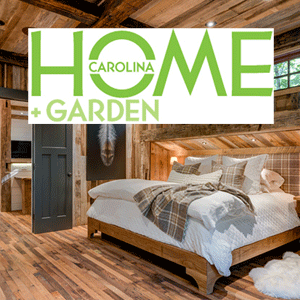 Loose Reins in a Tight Space
Loose Reins in a Tight Space
Firm Gets Carte Blanche to Transform an Old Carriage House
by Carolyn Comeau
Photos by Kevin Meechan
REPRINTED WITH PERMISSION
The smaller a space is, the greater the level of obsessive attention to its design must be. Amy Conner-Murphy, architect, designer, and principal at ACM De­sign Architecture & Interiors in Fletcher, learned this truth firsthand when she was tasked with transforming a drab 800-square-foot space atop a garage into a rustic-chic oasis reminiscent of an old carriage house.
"The owners, who live elsewhere, spend summers here. They wanted a space that would serve as welcoming guest quarters and an office for the husband when they're in town," explains Conner-Murphy.
Reclaimed barnwood, nickel-gap trim – shiplap's modern cousin – and a host of other refined appointments make the multi-use space efficient and elegant. The older South Ashe­ville home was much loved by its previous owners, a builder and his wife who renovated it from top to bottom, taking it from prototypical split-level ranch to classic Craftsman-style jewel. But the outbuilding is separate from the main structure, so when the new owners hired Conner-Murphy's firm to con­vert it, "we could let loose," says the architect, "and explore a degree of folly with the space – especially since the wife is an interior designer herself."
A flat-roofed over-entry lintel supported by tree-trunk columns beckons guests into an interior that's simultaneously sleek and cozy, sophisticated and down to earth. The trim is painted deep charcoal, which is grounding and defining, yet also an aesthetic foil to the abundance of reclaimed barnwood that covers the walls and ceilings. Antique beams and columns and bright oak timbers punctuate the whole.
The living area features a leather Arts and Crafts-influ­enced sofa and a plush armchair duo covered in informal fabric with retro grain-sack appeal. A half wall delineates a compact office highlighted by a live-edge walnut corner desk.
Reclaimed barnwood, nickel-gap trim – shiplap's modern cousin – and a host of other refined appointments make the multi-use space efficient and elegant." —Amy Conner-Murphy, Architect and Interior Designer, ACM Design
The kitchen boasts a deep porcelain sink and painted ma­ple cabinetry embellished with oil-rubbed bronze knobs and cup pulls, while the random gray veining running through the marble countertops and backsplash complements the stain­less-steel appliances that seem to know their place and refrain from shining too overtly.
A small staircase leads to the dining area. On one side, an oblong table is flanked by a church pew; across from it sits a pair of flat-black modern captain's chairs.
Opposite the dining table is a sideboard with a story. "It was placed directly below an elliptical window that the owners wanted to highlight," says Conner-Murphy. "We challenged our stone artist to make it look like the window had been there forever. He succeeded, crafting a dark marble casing that sur­rounds it entirely and emanates from the sideboard, giving it a built-in look."
The dramatic angles of the wood-covered bedroom ceiling frame a dreamy bed that's tucked into a narrow nook with a low eave; this space accommodates a soft upholstered headboard, nightstands, and twin sconces that keep the look streamlined. A Midcentury modern chair and fluffy, cloud-like Flokati rug add flair that's decidedly Scandi-chic.
A long shed dormer from the bedroom to the office was added to increase light and make the space feel larger, while a custom-made birch window seat encourages guests to sit a spell or read by the light of an antler sconce. "The birch adds rusticity and textural visual interest to the room," Conner-Murphy notes. No matter the season, a treehouse vibe stays in full effect.
"The small square footage that our entire team worked within allowed no room for error," declares Conner-Murphy. "Everyone on the project – the subcontractors, artisans, and myself – knew the house was much loved by its previous owners and the current ones.
"This drove us to work at the absolute top of our games."
Resources
Architect: Amy Conner­Murphy, ACM Design Architecture & Interiors
Interior Designer: Amy Conner-Murphy, ACM Design Architecture & Interiors
Builder: Chris Brock, Brock Builders, Inc., Asheville
Landscape: Terri Long Landscape Design, Asheville
Reclaimed barnwood Appalachian Antique Hardwoods, Waynesville (walls and flooring). The Bark House at Highland Craftsmen Inc., Burnsville (birch panel trim in bedroom window seat)
Wood walls: Nickel-gap wall board trim milled by Smokey Mountain Lumber, Asheville
Cabinetry: Advance Cabinetry, Fletcher (new cabinets for the office, sitting area, bedroom)
Countertops: Carrara Marble (kitchen) and Titanium Black Granite (buffet top and oval window trim), sourced and fabricated by John Motes, Stone Connection Granite Interiors, Zirconia
Carpenter: John Rea with Placemark Design Build in Arden (installed all of the barnwood and nickel-gap trim on the walls, installed all of the reclaimed timbers)
Furniture: Trish Klein, Advance Cabinetry (designed the bed and suspended night tables in bedroom, sourced the live-edge walnut desktop)
Textiles: Bed linens from Porter & Prince, Asheville
First Appeared in the Spring 2020 issue of Carolina Home & Garden.

More details about this project are available in our Portfolio, Rustic Modern Carriage House