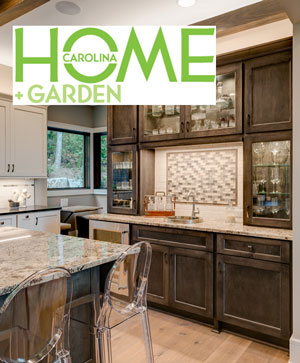 Carolina Home & Garden Features Modern Mountain Kitchen Design
Elevated Style
by Melanie McGee Bianchi
Photo by Kevin Meechan
REPRINTED WITH PERMISSION
A set of contemporary Philippe Starck Ghost Chairs surrounding the kitchen island may be merely auxiliary to the main event, but the choice of the clear acrylic stools is highly clever — and consistent with this rustic-modern home perched 4,300 feet in elevation.
The neutral palette "provides a balanced interplay between the rich but spare interior materials and dark-stained windows," according to Amy Conner-Murphy (ACM Design), the Waynesville-area home's architect and also its interior designer. The chiaroscuro is distilled in the mosaic tile backsplash, set against a larger swath of white subway tile (Cato Junge, Tile Specialties Corp.). Indicating a locus of vibrant living for homeowners Beth and Ken Brody, the space is appointed with two sinks — the double-basin main sink and a customized hammered-steel bar sink. Beth reveals that this sink doubles as an ice bucket for wine, beer, and champagne, and that the glass-fronted shelves above it are illuminated with festive red lights.
Pressed to articulate her favorite aspects of the kitchen, Beth names a long list heavy on details such as pull-out dog bowls under the island. She also acknowledges the "built-in breakfast nook with floating granite tabletop, the gorgeous view from the [main] sink through large windows, and endless counter space."
Above it all, mighty beams on the ceiling suggest a remnant of Craftsman aesthetic, but the feel is airy and restrained, not heavy. Being responsible for both the architecture and interior design "allowed for a seamless interplay between traditional and modern," points out Conner-Murphy.
Resources
Architect/Kitchen Designer Amy Conner-Murphy of ACM Design (Asheville)
Cabinetry Trish Klein, Advance Cabinetry (Fletcher)
Countertops Stone Connection Granite Interiors (Zirconia)
Builder Chris Brock, Brock Builders (Asheville)
Furniture Mobilia/Four Corners Home (Asheville)
Tile Cato Junge, Tile Specialties Corp. (Columbus)
Appliances Ferguson (Asheville)
First Appeared in Carolina Home & Garden.