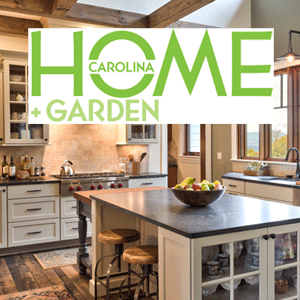 Farmhouse Kitchen Featured in Carolina Home & Garden Magazine
Farmhouse Reimagined
by Melanie McGee Bianchi
Photo by Kevin Meechan
REPRINTED WITH PERMISSION
The inspiration for this warm, light-suffused space near Black Mountain came from an old-time Pennsylvania farmhouse. But despite the appointment of cherished family heirlooms, there won't be much of butter-churning or washboard-scrubbing going on here.
"This is a kitchen planned especially for food lovers," says Amy Conner-Murphy of ACM Design, who designed and executed the space for homeowners John and Sue. A large prep island comes complete with seating and storage and is appended by an outsized chopping block.
"It needed to support both intimate conversation with the owners who live there full time, as well as be large enough for gatherings of family and friends," explains Amy. A retirement home for the couple, who have grown children living away from home, it's modeled on the 200-year-old farmhouse in Bucks County — a rural suburb of Philadelphia — where Sue grew up. "I lived in just one house, and I have amazing memories from it," says Sue. "Amy was incredible in the hours she spent listening to how I wanted to recreate my childhood home" — albeit with a sunny southern accent.
Loads of light — an element often absent from vintage farmhouses — and a flawless mountain view are welcomed with Shaker-style cabinetry, soapstone countertops, and spectacular reclaimed-oak plank flooring finished with Danish oil. The wood is seconded with rustic-look beams criss-crossed along the ceiling (newly milled but crafted to antiquity by Anna Krauss).
However, it's the standalone pantry, in a niche of its own behind the main kitchen — a room that's received lots of love on Houzz and Pinterest, reveals Amy — that claims pride of place. With open shelves of stained alder reaching nine units high and an attached library ladder sliding its length, the space is at once a spice chamber, a roomy storage area, a display for Mason jars and crockery, and a secret cove to store used dishes during parties, out of sight until festivities are over. A Boos butcher block from the couple's Pennsylvania home and a custom coffee station complete the scene.
"I didn't want cathedral ceilings, just lots of natural light," notes Sue. "Amy made the spaces cozy, but they never feel claustrophobic because everything is open and interconnected. Nothing feels modern — and yet I have every modern amenity I could wish for."
RESOURCES
Architect/Designer Amy Conner-Murphy, ACM Design
Builder Ryan McLellan, Copperwood Builders
Cabinetry Benbow & Associates
Countertops Stone Connection Granite Interiors
Fine Artist Anna Krauss (rustic beams)
Flooring Whole Log Lumber
Stone Hipps Stone
Lighting Amy Conner-Murphy, ACM Design
Tile Carolina Designs
Appliances Ferguson
View the original article at Carolina Home & Garden. 

More details about this project are available in our Portfolio, Black Mountain Rustic Modern Farmhouse