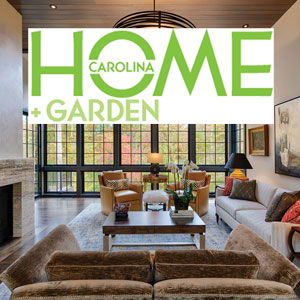 The Curated Life
The Curated Life
Forever Friends Share Their Vision for Artful Retirement
by M.M. Bianchi
Photos by Kevin Meechan
REPRINTED WITH PERMISSION
It's supposed to take a lot of compromise to successfully combine households. But Gail Dosik and Jackie Stevens have been together for almost 40 years, and Stevens has been close friends with Joey Gigliotti for half a century. The three former Manhattanites had always been close — Gigliotti lived a few blocks from Dosik and Stevens — before they made their move to the mountains. Architecturally, they knew what they wanted: a home that combined the material charm of big-city vintage lofts with a custom, open flow. Plus art.
Dosik is an artisan baker and culinary instructor, Stevens had a career in the fashion industry, and Gigliotti, an oil painter, art collector, and touring docent at Asheville Art Museum, worked in corporate finance. "For at least 10 years prior to moving here, we talked about retiring and living together so we could combine our skillsets," says Dosik, "and help one another age in place."
None of the three have children (though they do share parenting duties for two Papillons, Vivi and Josie). Also common to the trio is their vision of the ideal lifestyle. During their long search for the It City, "we crossed more areas off the list than we added," says Dosik, before landing on Asheville. Criteria included temperate weather, a craft food scene, beautiful surroundings, and a welcoming, progressive vibe.
Next up: aesthetics. Dosik took a cue from older NYC buildings renovated to condominiums: "The juxtaposition of the old brick and stone, contrasted by more contemporary black-metal-clad windows, was the look we were after." She adds, "As light-deprived apartment dwellers for so many years, light was important, as was space."
Their dream home in The Ramble, delineated by ACM Design of Fletcher and built by BlueStone Construction of Hendersonville, is almost 5,000 square feet. "We looked at a number of existing homes to renovate, but none offered an opportunity to create two spacious master suites," says Dosik. "One of the reasons we chose to work with Kevin [Reed, founder of BlueStone] was because of the dedicated team of craftsmen he's assembled. The quality of artisanship that each brought was evident when Kevin showed us a home he and his team were finishing.
"Over the course of the building time, we got to know these men and saw firsthand how they treated the project — as if they were building their own home."
The exterior is a steep-pitched, chateau-esque blend of limestone and "Chesapeake Pearl" tumbled brick with dark mullioned windows and other sleek modern accents. "The stone details were very important," notes Reed. Architect Amy Conner-Murphy, head of ACM Design, muses that "in many ways, the design reflects a house-scale version of [the owners'] NYC neighborhood — it has common passageways that connect to individual spaces where they can come together as a group, or inhabit quietly and privately."
"Amy's innovation was genius," says Dosik. "Our master is on the main floor, close to my favorite space … the kitchen. Joey's master is on the lower level and has its own roofline, so it's definitely not a 'basement bedroom.'"
"The gently sloping corner lot was perfect for a daylight lower level," explains Reed.
Dosik credits Michael Manes, director of Blue Spiral 1 Fine Art + Craft gallery in Asheville, for helping them collate all the fine art from their two apartments and Gigliotti's beach house. The trio also purchased new work from Blue Spiral.
"We've always made it a point to support local artists, either where we lived or from our travels," says Dosik.
Balancing the tastes of three clients in one home "was an unusual opportunity," says Reed. "The resulting home is so alive and interesting.  It is impeccably maintained — spotless, really. It's like a residential art museum."
Room With (More Than) a View
On the Edge of My Seat by Katie Walker hangs over the fireplace opposite Arbiter of Light by Peter Alberice, placed above the sofa (both artists are represented by Blue Spiral 1 gallery in Asheville). The two framed oils bookending the Alberice piece are by homeowner Joey Gigliotti's father Steven. The fireplace surround is made from slabs of silver travertine, sourced through Nature of Stone in Fletcher and crafted by Stone Connection Granite Interiors of Zirconia. April Fore of Furniture Specialties in Asheville custom built the contemporary sofa at right, finished in textured neutrals. An array of mullion windows spans every inch of the great room's adjacent wall, and a contemporary statement chandelier throws light on the scheme (Amy Conner-Murphy, architect and interior designer).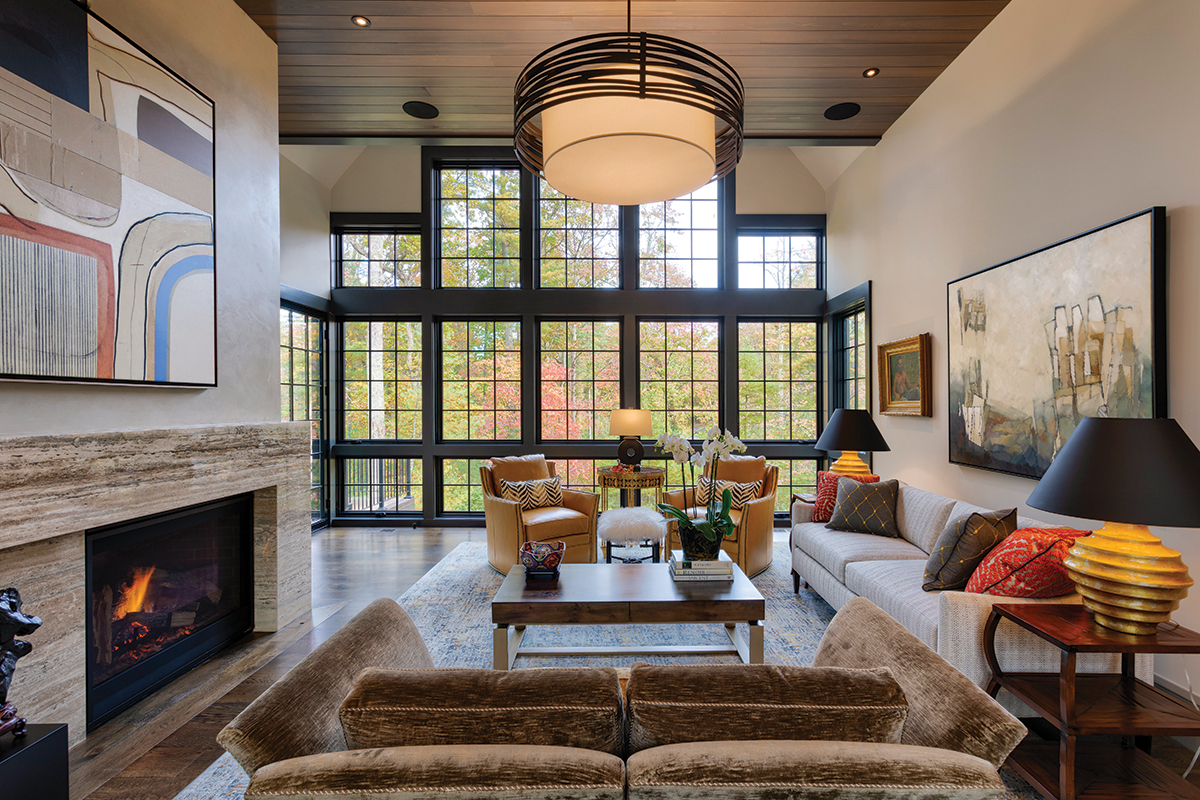 Patisserie For Three
Brass globe chandeliers sustain the vibe in the sophisticated kitchen — co-homeowner Gail Dosik is a pastry chef — with eased-edge marble countertops and island crafted by Stone Connection. Todd Miller, the blacksmith founder of Screaming Hot Iron, forged the stylish custom range hood (designed by Amy Conner-Murphy). Advance Cabinetry in Fletcher did the chic frameless cabinetry: quarter-sawn oak with a gray stain (perimeter) and cherry with a moss stain (island). Countertops and backsplash are Calacatta classic quartz, installed by Stone Connection out of Zirconia. Cabinet hardware and sink fixtures are from Bella Hardware & Bath of Asheville. The porcelain stoneware floor tile is "Ecowood" by Florim USA (from Crossville Studios in Fletcher).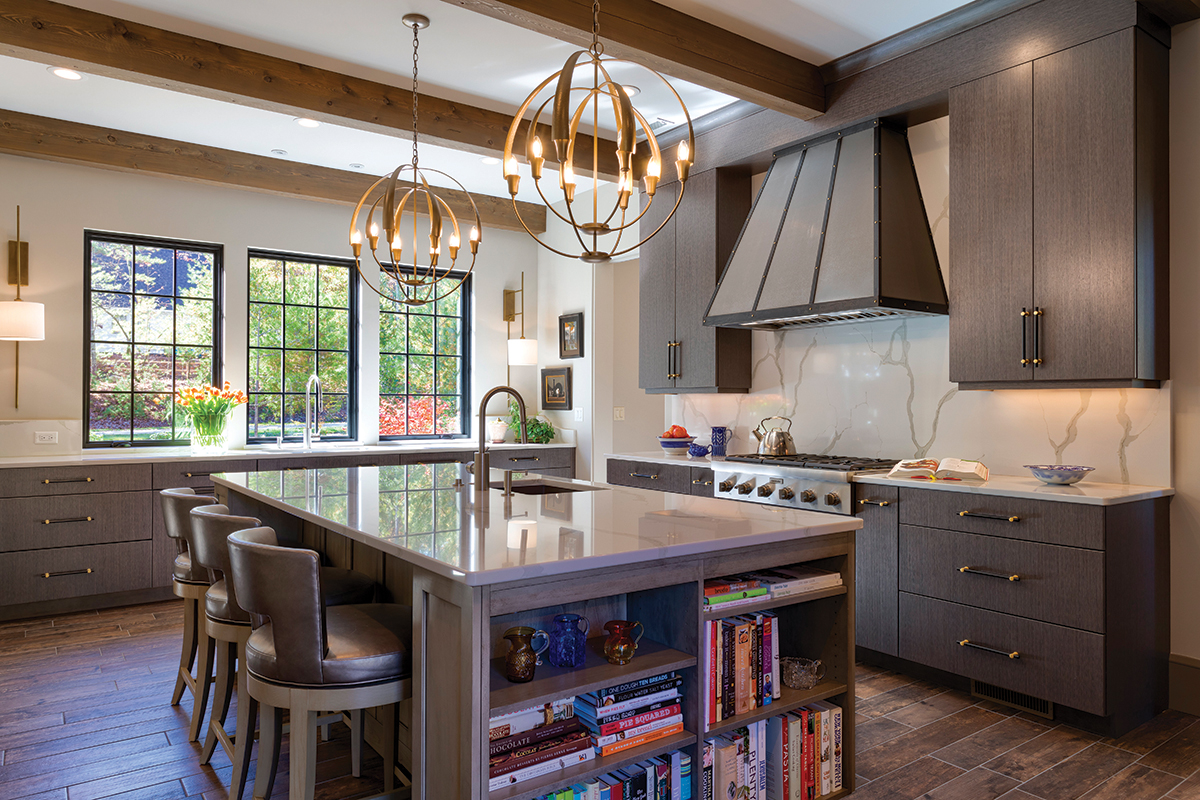 Grouping for Grownups
The breakfast-room wall acts as a gallery backdrop for Blue Flow china, a pair of still lifes by homeowner Joey Gigliotti (lower left and right), and other pieces from a lifetime of collecting. At upper left is I Could Have Danced All Night, by Alberto Ortega. The mirror is from the homeowners' collection of antiques.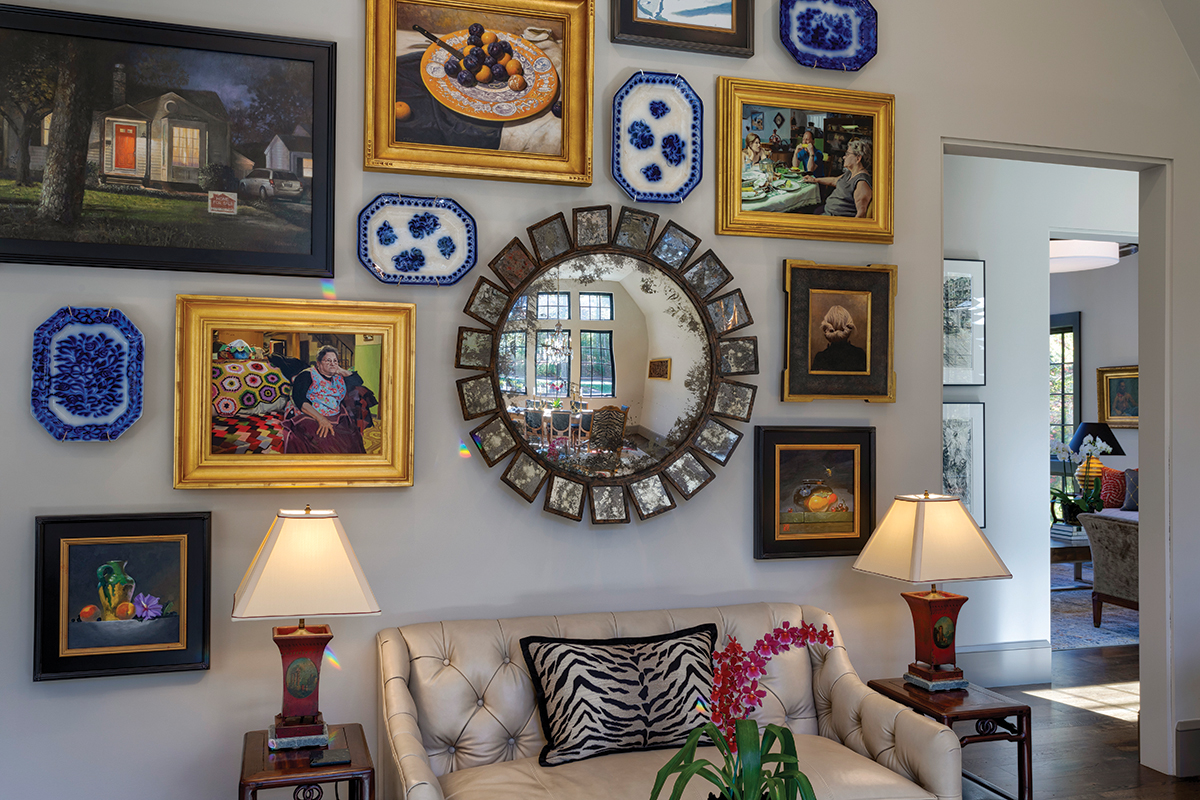 In the art-centric home of Gail Dosik, Jackie Stevens, and Joey Gigliotti, no niche is left unadorned. Hanging over a mod credenza is a collage of 12"x12" mixed panels by local artist Katie Walker (represented by Blue Spiral 1).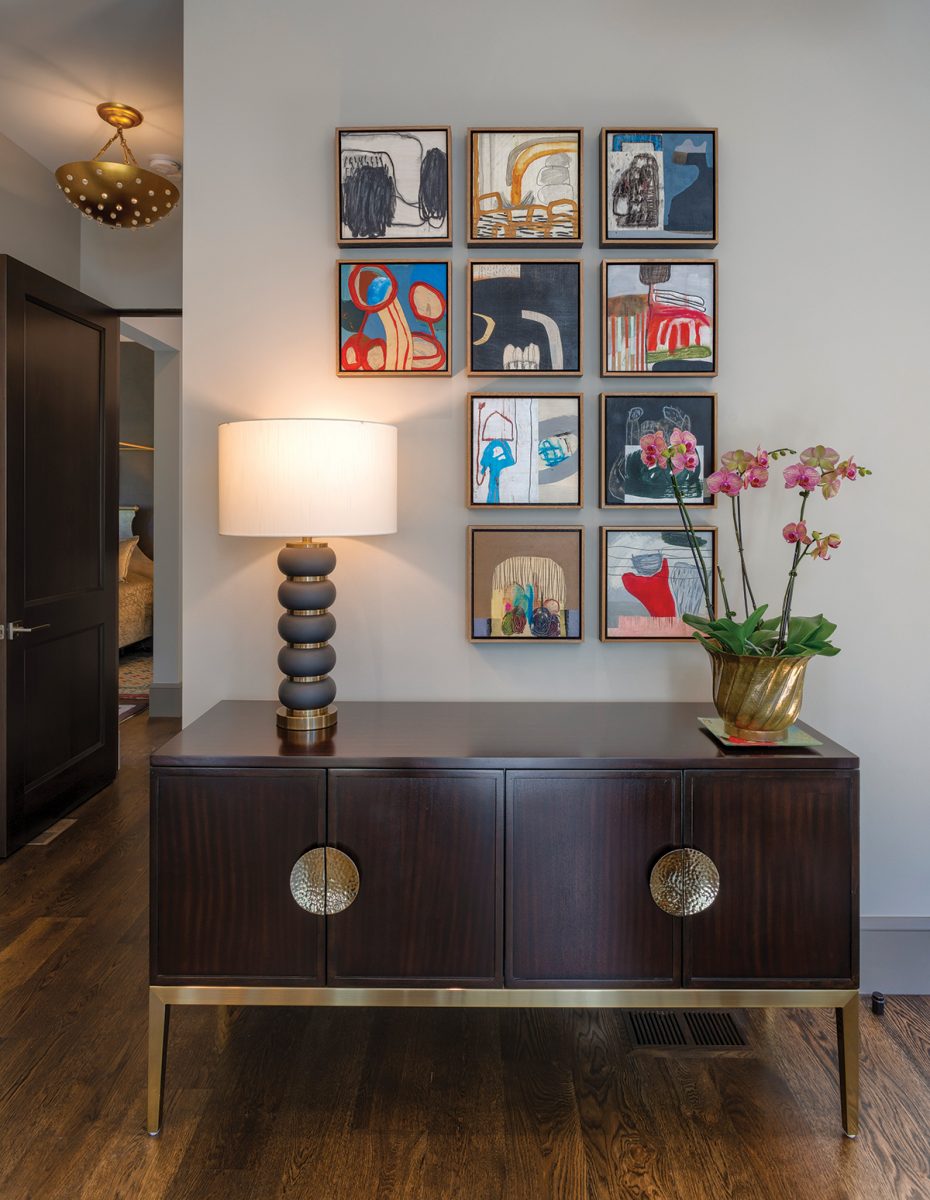 A detail from Jackie Stevens' and Gail Dosik's Blue Flow ceramics collection.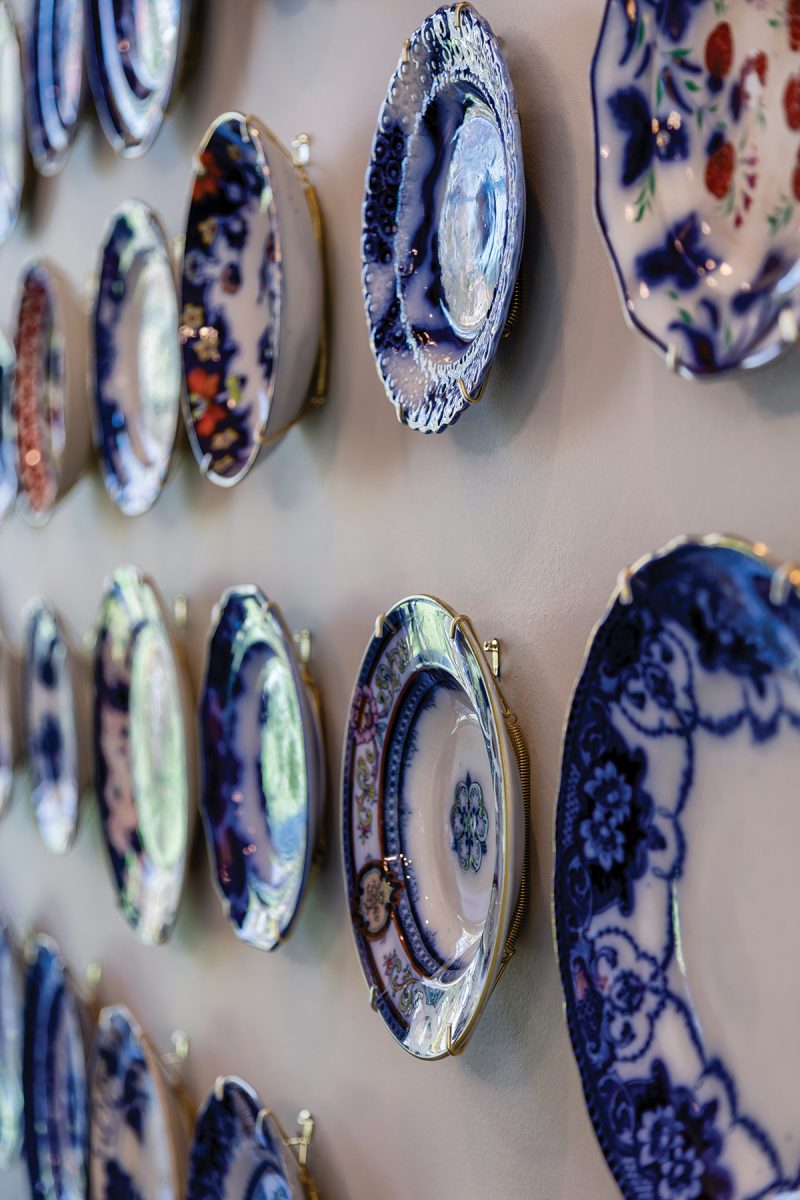 Return of the Real Dining Room
This home in The Ramble, built by BlueStone Construction of Hendersonville, is owned by three former urbanites whose lifestyle in Asheville continues to revolve around fine art and good food. Custom upholstered chairs (April Fore, Furniture Specialties) surround a table for eight, and accessories (gilt mirror, elegant drop chandelier) land on the whimsical side of fancy. Waiting, by late Philadelphia painter Michael P. Shanoski, commands the room, and is one of many high-profile artworks throughout the interior.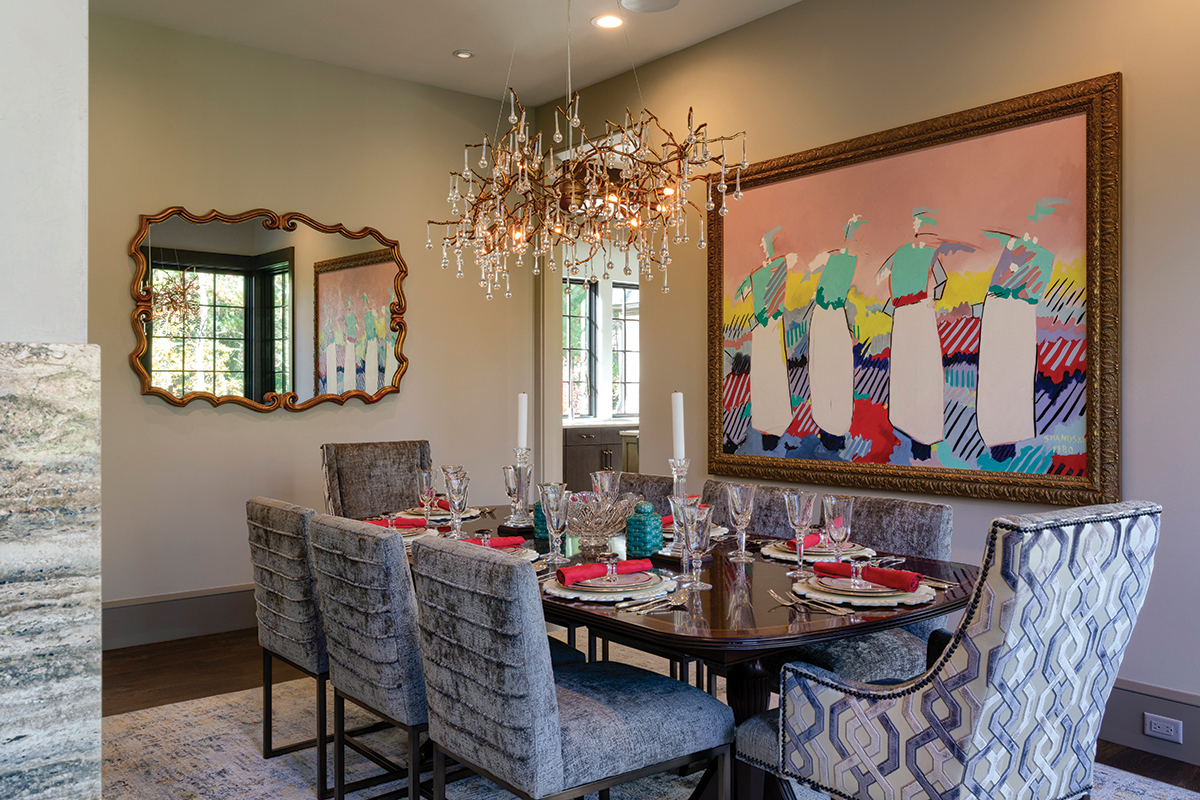 Dreaming in Color
The upper-level master bedroom is another display area for the homeowners' art from around the world, including watercolors above the bed by Hanna Niven ( Jackie Stevens' cousin) of Oxfordshire, England. Architect Amy Conner-Murphy, who's also the home's interior designer, appointed a champagne metallic montage four-poster bed. April Fore with Furniture Specialties in Asheville fabricated the custom accent pillows and bedscarf, designed by Conner-Murphy.
Silver travertine natural stone from Crossville Studios, laid in a random pattern, anchors an edgy slipper tub (Ferguson) in the master bath.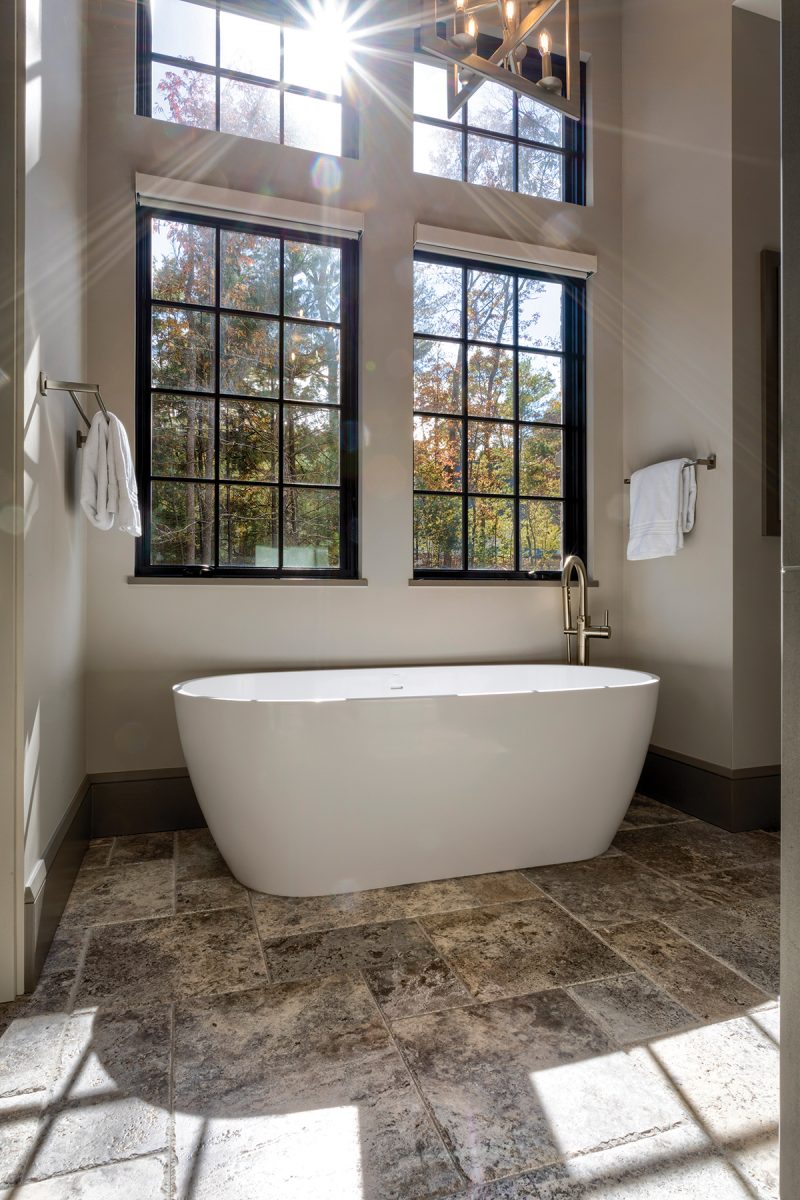 Earthy neutrals hold sway in the lower-level master bedroom (Elitis wallcovering), where a black Chin Hua Foshan canopy bed is coupled with zebra-print ottomans and homeowner Joey Gigliotti's family antiques. Artwork at right is by contemporary Polish painter Karina Antonczak. A hipped ceiling and circular gable window give the suite a distinct character.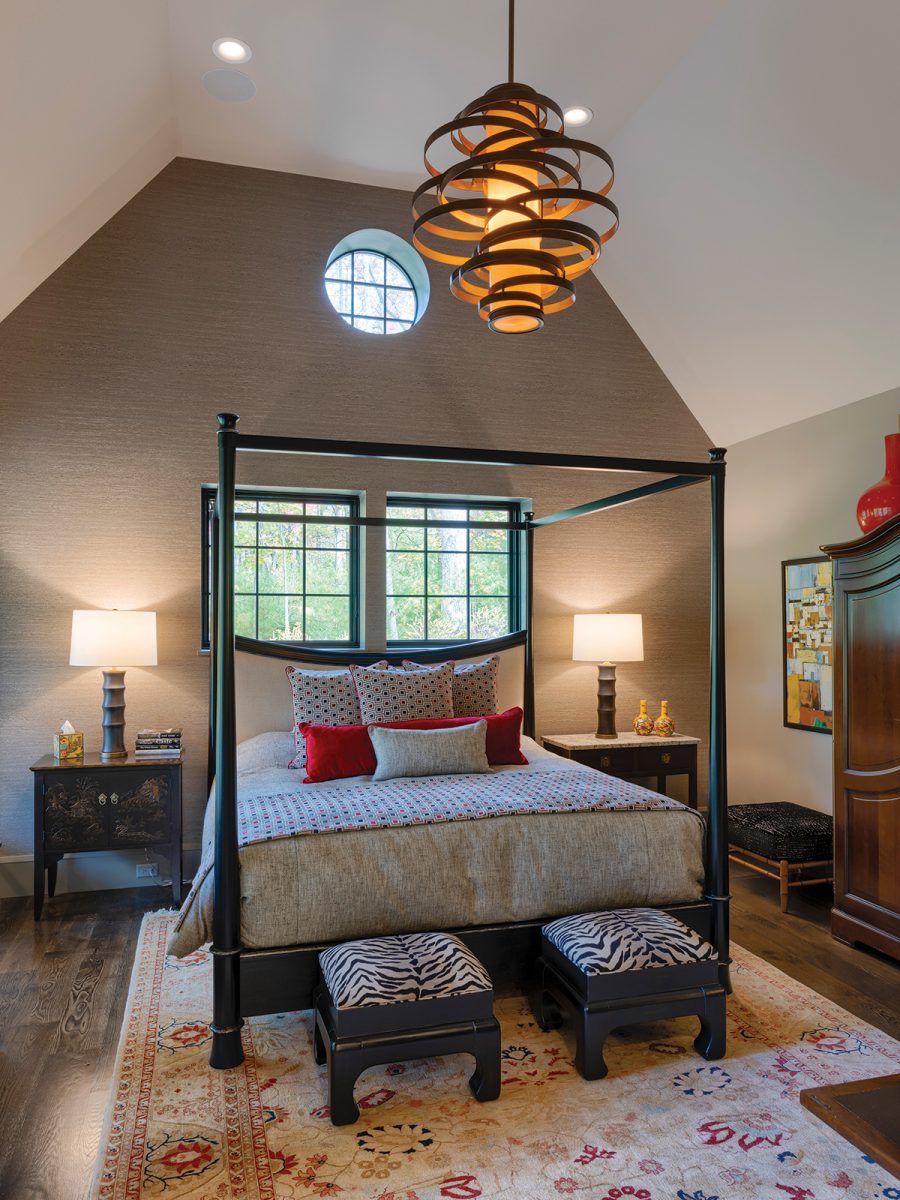 Resources
Architect: Amy Conner-Murphy, AIA, ACM Design (Fletcher)
Interior Designer: Amy Conner-Murphy, ACM Design
Builder: Kevin Reed, BlueStone Construction (Hendersonville)
Cabinetry: Advance Cabinetry (Fletcher)
Countertops: Stone Connection Granite Interiors (Zirconia)
Fixtures/cabinet hardware: Bella Hardware & Bath (Asheville)
Local art: Blue Spiral 1 Fine Art + Craft (Asheville)
Local artisans: Kitchen hood and stair railings fabricated by Todd Miller, Screaming Hot Iron (Fletcher)
Custom furniture: April Fore, Furniture Specialties Inc. (Asheville)
Tile: Crossville Studios (Fletcher)
Stone/marble: Nature of Stone (Fletcher) and AGM Imports (Charlotte), crafted by Stone Connection Granite Interiors (Zirconia)
Landscaping: Wilde Acre Landscapes (Asheville)
Landscape Architect: Greg Cloos, Cloos Landscape Architecture (Horse Shoe)
Stone and Brick Mason: Pedro Velasquez, Cason Builders Supply (Flat Rock)
Pavers: SiteOne Landscape Supply (Arden)
Windows: Morrison Millwork (Fletcher)
Interior doors: Sun Mountain Doors (Fletcher)
Appliances: Ferguson (Asheville)
First Appeared in the Spring 2021 issue of Carolina Home & Garden.

More details about this project are available in our Portfolio, The Lumiere House