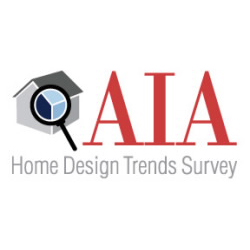 What are Homeowners Focusing On?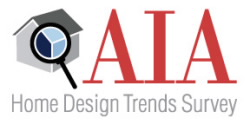 The American Institute of Architects (AIA) recently released 3rd and 4th Quarter results for their 2015 Home Design Trends Survey (HDTS) which focused primarily on the popularity of several bathroom and kitchen products and features, home design trends and market conditions compared to 2014. The surveys found that many of the most popular trends from a few years ago have started to level off, but on the flipside, a few features have increased in popularity.
To begin, in the bathroom, overall certain features such as upscale showers, radiant heated floors, and adaptability/universal design have not changed much since 2014. Conversely, a few products on the rise are LED lighting, stall showers without tubs and large walk-in showers. Similarly, LED lighting is on the rise in kitchen as well as upper end appliances. A decrease in larger pantry space, double islands and adaptability/universal design was seen in the kitchen space.
Other areas the surveys focused on were market design trends and specific construction segments.  The 3rd quarter survey provided insights as the the home design trends we can expect to see. From the survey, infill development, access to public transportation, higher density development and walkable neighborhoods were all on the rise. Additionally low maintenance exteriors, front and side porches, and single story homes were on the rise. When it comes to specific construction segments, AIA Chief Economist, Kermit Baker, noted "Though business conditions for residential architects remain solid, recovery from the Great Recession has leveled off. Remodeling and renovations continue to account for the core of residential billings." Specific segments listed on the rise include additions/alterations and kitchen and bath remodeling.
For the complete AIA Home Design Trends Survey, go online to: http://www.aia.org/practicing/economics/AIAS077115
Here at ACM Design, our team of experienced professionals are qualified ​to assist you with your next project. We specialize in custom residential home design, renovations/remodeling, interior design and outdoor living design. For more information about how we can help​, contact us at: info@acmdesignarchitects.com