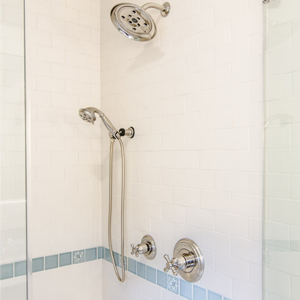 Aging in Place & Universal Design
Home Design Centered Around Aging in Place and Universal Design Guidelines
For years, the topics of aging in place and universal design have become common terminology and best practice when designing homes. These design considerations apply not only for those with disabilities and older generations, but also for a larger slice of the population, the baby boomers, who plan to stay in their homes as they age. As over 76 million baby boomers prepare to enter retirement in the near future, a significant  portion of the US population will be looking for their homes to not only suit their current lifestyle, but have design aspects that help prepare them for the future as they are presented with more aging-related challenges. Whether they decide to make modifications to their current home or to make a move to their forever home, universal design products are plentiful. Thanks to recent design advancements, universal design products are less "institutional" and more aesthetically pleasing. 
Remodeling and custom home design can integrate aging in place design and products that merge essential function with aesthetic appeal. Often, it's automatic to picture aging in place with handrails and less than attractive cabinets; however, more manufacturers are realizing the importance of revamping their product lines to blend into the home. Aging in place design has many spaces to consider when designing, or redesigning, your home.
Here are a few of the features of a home to focus on when incorporating aging in place design:

Bathroom Design:
Here's a great bathroom designed with aging in place in mind:
ADA compliant toilets that are between 17"-19" high and vanities that are either wall mounted or pedestal are ideal for wheel chairs to roll up to.

Grab bars that do double duty are available in many designs and finishes. These combine the function of a towel bar with the necessity of a grab bar :

Some grab bars have soap and shampoo dishes built in for even more function.

Shower benches don't have to look like they came from the hospital. Modern day benches can be incorporated into the shower walls or added later on.

Faucets that are easy to turn on and off are quintessential for those who suffer from arthritis or other ailments that affect the function of their hands.
Kitchen Design:
Here's a great kitchen with Aging in Place principals incorporated:
Aging in place and universal design can be incorporated into any design style. Many advancements in universal design products have become available to consumers. The design professionals ACM Design are well versed in these products, as well as Aging in Place and Universal Design principals. If you need an experienced design team to help guide you through your next custom home design or renovation, contact ACM Design today at 828-684-9884 or email us at info@acmdesignarchitects.com