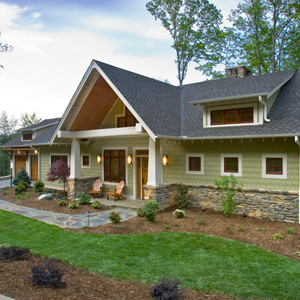 Asheville Green Architecture in Practice
Going the extra mile to promote a commitment to the environment.
Asheville and Western North Carolina residents take steps each day to push our progress towards becoming a greener community. Through the use of green architecture in private residences, businesses and community buildings, our area is experiencing substantial growth in the number of green projects that are coming to fruition each and every day.
Architects are innovators in their industry and that is no exception when it comes to the green scene. By integrating green technologies such as solar panels, solar powered hot water systems, green roofs, daylighting, and more, area architects are going the extra mile to improve the future of our environment through environmentally friendly design practices.
Here's a look at some of the commercial green architectural projects in Western North Carolina:
Biltmore Park: Built around the focus of high density urban living, Biltmore Park has led the area in new construction centered around lessening our impact on the environment. Along with providing ample greenspace, architects and designers of the Biltmore Park condos and apartments utilized Energy Star appliances, water-saving fixtures, and large windows for natural light. Recently, the building located at 28 Schenck Parkway was also retrofitted with a new rooftop solar photovoltaic (PV) array.
Hilton Asheville: The Hilton Asheville has obtained LEED Silver Certification from its top-to-bottom earth friendly design. The hotel eliminates 25 tons of carbon dioxide each year due to a solar powered hot water system, cuts back on wastes with a hotelwide recycling program, uses Energy Star light bulbs and environmentally friendly cleaning products, and utilizes a linen reuse program.
Buncombe County Schools: Buncombe County Schools are teaching students more about greener technologies through the design and build processes used in the new Intermediate Schools. The schools will utilize daylighting, efficient materials and finishes, highly efficient heating and cooling systems, low impact cleaners and sealers, and enhanced thermal insulation to lower energy consumption.
The City of Asheville: Asheville has its own Office of Sustainability focused on cutting Asheville's carbon footprint each year. So far Asheville's initiative has added solar panels to city fire stations, upgraded City Hall lighting, re-engineered the Civic Center's HVAC system, and established a comprehensive recycling program.
Harrah's Cherokee Casino: With a multi-million expansion on the boards, the casino is adding a little more green to the Cherokee landscape. Using green building practices and integrating a green roof are just a couple of the ways the casino is expanding with less impact.
Jim Barkley, AB Tech & YWCA: Many local businesses, schools and community organizations are adding solar panels to utilize the sun's natural energy. These eco-investments help cut energy costs and our impact on the environment. Solar panels have come a long way, now featuring a sleek, modern design.
Fletcher Business Park: Announced in 2008, the Fletcher Business Park will be home of the world's largest installation of solar-thermal heating-and-cooling technology. The business park will boast a 27,000 gallon water tank, 2.5 miles of steel piping and tubing, and 640 solar panels.
From local schools and successful businesses to private residences, we are getting a look at the new standards in green architecture.  As our community is a leading player in green architecture, we're sure to see constant innovation and improvements in the products we use in our homes right here in the mountains.  Why not join your neighbors and increase the efficiency of your home while decreasing your carbon footprint. The ACM Design team are specialists in green architecture and are here to help you create the green home of your dreams. Contact us today to find out how your home can be eco-friendly too.