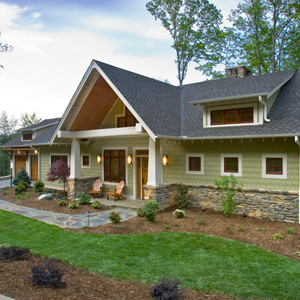 Consider Greening Your Home Remodel
Perhaps you've been considering a home remodel, but are concerned about the cost and what the ROI will be.  If this is the case, you may want to consider a "green" remodel.  Incorporating green features into your existing home may cost less than you think and save you a lot of money in long run.
As experienced HealthyBuilt Home architects ACM Design can help you to weigh the costs and benefits of "greening" your home renovation.  There have been some great advances in green home building over the past few years, so you will want to consult with an expert with experience in green home building and in the Western North Carolina region.
Green is More Affordable Than Ever
While the definition of a green remodel may vary from one source to another, one thing is certain; the rise in popularity of green home products has lowered the cost.  A common misconception is that green homes cost more to build, but in many cases you can get green products for the same prices as alternatives, plus with tax credits, long term energy savings, and longer product life-spans, you will have a much better ROI.
Green Can Even Mean Luxury
Apart from being a better overall investment, green products are also more luxurious than ever before.  In fact there are green homes popping up all over the Asheville area in all price ranges.
Green Benefits the Community
One final benefit to using green products in your home remodel are the lowered health and safety risks to your family and your contractors.  Choosing safer materials can also mean doing your part to prevent ingestion of toxic chemicals by the teams you hire to build or renovate your home.  So by doing your part for the environment and your family, you will also be helping out the community.