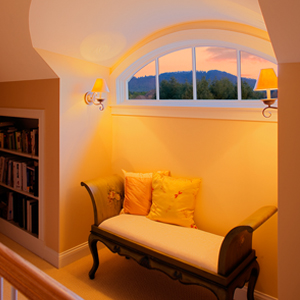 Custom Windows for Your Home
Often overlooked, windows are an important feature to every home. They can satisfy both function and aesthetics while adding to the value of your home. It's easy to see windows as a cost, but when you consider them more of an investment, you see their true worth.
When buying windows for your new custom home or renovation, do your homework. Window technology has made great advancements towards improving efficiency, increasing durability and decreasing maintenance. From low emissivity, low conductivity spaces, Energy Star ratings, coatings and gas fillings and other technologies, windows are doing more now than ever.
One advancement, low emissivity, or Low-e, glass refers to the specialty coatings applied to the glass surface that reflect radiant infrared energy. This in turn keeps the radiant heat on the side of the glass which it originates from; the sun's heat and damaging UV light is reflected out in the summer and your home's heat is reflected back inside during the winter. Multiple panes of glass are used in Energy Star windows to increase efficiency, impact resistance, and sound insulation. Between these panes of glass, gas fillings such as argon, krypton or other gas, are used for their increased insulation capabilities over regular air.  Additionally, the material chosen for your windows affects the maintenance, durability and efficiency. Your window frames and sashes can vary in material from wood, fiberglass, vinyl and aluminum, each having their own pros and cons. For example, vinyl provides lower maintenance but cannot be painted, while wood frames can be painted or stained but result in more maintenance over time.
The style of windows available vary greatly, so be sure that your window choices match the architecture of your home. Simply replacing windows can create an entirely new look to your current home while improving efficiency and life your space. Because there are so many options available, take time to find out which window matches your home and your lifestyle. Remember to shop for windows as you would any other investment and take time to do your research.