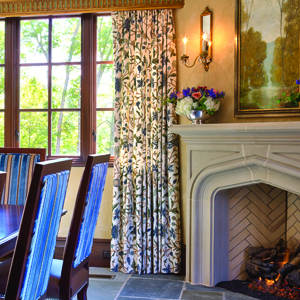 Window Treatment Ideas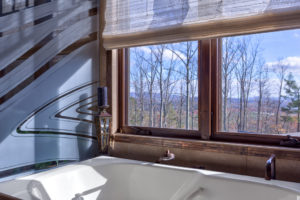 Think of window treatments as icing on the cake when it comes to decorating interior rooms of your home. From draperies and roman shades to blinds and plantation shutters, many options are available to dress the windows in your home.
When designing a new home, consider both the placement of windows and window treatments during the design process to ensure that adequate space and in-wall wood blocking is allowed for. For example, drapery panels should be approximately 1.5 to 3 times the width of the window for proper fullness. Wood blocking installed during construction will ensure that mounting hardware is securely attached. When installing window treatments in an existing home, consider mounting options, spacing, and locations of existing HVAC vents and how those items can affect the window treatment you select. Here are a few suggestions for picking out the perfect window treatment solution for your home.

What Purpose Will they Serve?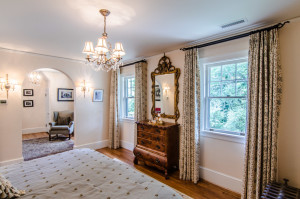 Will the window treatment block out light, provide insulation, increase privacy, or is it purely aesthetic? Determining the purpose for the window treatments will start your search off in the right direction. From sheer panels to black out curtains and everywhere in between, there are many options to fulfill the purpose of your window treatments. For example, if insulation is a goal, honeycomb shades help control interior room temperatures throughout the year.
Who Lives in the Home?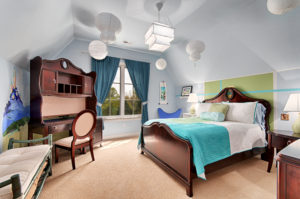 This is an especially important factor for homes with children. If you're designing for a child or teen room, your choice may be more whimsical or distinctive from other rooms in your home. Also, will there be little ones running around pulling on cords and fabric? If so, you may want to simplify and go with roller shades, cordless blinds or wood shutters. Finally, if pets reside in the home, keep in mind that it is often difficult to provide privacy and pet-proof window treatments if your cat or dog has easy access.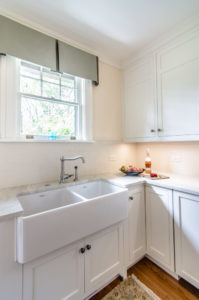 Color & Texture:
Take a look around the room to determine the style and color palettes that will work best. Window treatments shouldn't compete or disappear when you view the room as a whole. Choose a style that is appropriate for your space, like a valance above the kitchen sink or a bathroom window since full length panels would get in the way and be difficult to keep clean. Installing drapery material with texture is a great way to add visual interest to your room if bold color won't work well for the overall design. Remember, not every window treatment has to be traditional fabric draperies. Explore other options like bamboo shades, honeycomb shades, plantation shutters and more.
Fabric Selection: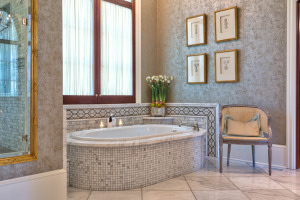 If you are going with fabric for your window treatments, consider the room and it's "environment" before purchasing the material. If the room is sunlight filled, select a fabric that stands up to fading. If the room is humid, avoid fabrics that wick moisture. The desired amount of privacy and natural light will guide you towards the correct fabric weight or the addition of a fabric lining. The owner of this bath required privacy and natural light, so semi-sheer fabric shirred inside operable wood panels provided both features.
Style of the Space: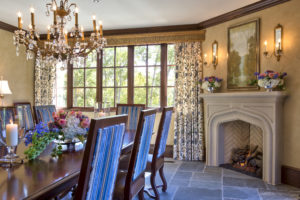 Once you decide the style of the room, consider a coordinating style of window treatments along with mounting method and hardware. Ideally, the style of the window treatments should fit perfectly in the space. Don't forget window accents such as decorative valances, tie backs, and ornamental rods. If window treatments need to serve the dual purpose of providing both light and privacy, consider layered treatments such as patterned fabric panels with soft sheers behind. The dining room below shows an ornate golden patina cornice that pairs perfectly with the room finishes.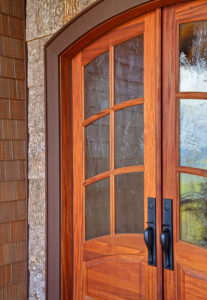 If window treatments are not appropriate or simply not desired, consider glass options that can provide both interest and some privacy. Stained glass can make a great design statement, but if colored glass is too much, consider patterned glass instead, as shown in the image below. Wrought iron offers a decorative solution for adding a design element to your windows or doors.
If you need help with your next home design project, the professional architects and designers at ACM Design are here to help. Contact us at 828-684-9884 or email us at info@acmdesignarchitects.com to get started on your next project.