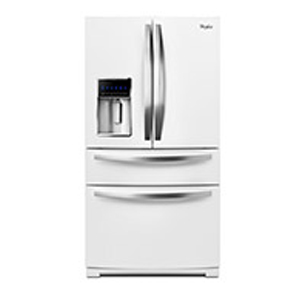 Does a New Year Mean New Finishes for Your Appliances?
Stainless steel appliances took the appliance world by storm back in the 1990's and have dominated the market since.  However, there are new finishes on the horizon that can be expected to appear in homes.  Will these new finishes be the end of the stainless steel?
After finding many consumers and designers sought alternatives to stainless steel, product manufacturers are working hard to find other finishes.  The major complaints with stainless are its commercial appearance and susceptibility to fingerprints. Popular brands such as GE, Whirlpool, and Wolf recently launched new product finishes to compete with the ever popular stainless.
While not completely reinventing the wheel, GE created a new line of "Slate" appliances meant to blend with other finishes such as stainless steel, black and white. "Slate" appears to have more of a warm, matte finish when compared to the shinier stainless, and also offers brushed metal touch points. The overall look of this finish is aimed toward consumers who want a timeless look of appliances that blend with other important design aspects of the kitchen rather than standing out.
Whirlpool's most recent new finish collection is called the Ice Collection. The designers at Whirlpool have taken white appliances up a notch with the new collection featuring a shiny white exterior with metallic accents and a streamlined and modern design. In addition to the white Ice Collection, Whirlpool also has the Black Ice Collection that showcases a black shiny surface and sleek lines.
Wolf has focused on black appliances with the introduction of their black glass oven.
Also on the higher end, Viking offers consumers a wide range of color choices for appliances including the typical Stainless Steel, White and Black, but also Sage, Sea Glass, Wasabi, Lemonade, Cinnamon, Cobalt Blue, Racing Red, Chocolate, Plum and many more. Clearly, consumers have their share of color choices when going with a Viking product. See what you think of these color choices:
Stainless steel appliances may have tougher competition as appliance makers are introducing a new wave of product finishes sure to give consumers a wide variety of choices for their appliance needs. Will there be a new king of finishes? Or will stainless remain the top choice for consumers?
As architects and designers, we work hard to find the balance between bringing our clients the latest trends in the home and interior design and creating homes that are timeless.  Regardless of your design direction, at ACM Design we strive for a customized experience to meet the individual architectural and interior design needs of each client resulting in the home of your dreams. For information on how we can help you with your new construction, renovation or interior design project, find out more online at www.acmdesignarchitects.com or give us a call at 828-684-9884.