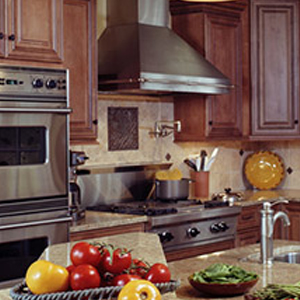 Best Bang for Your Buck on Appliances
Incorporating the right appliances is a great way to add value to your home, but with so many options, it can be hard to know what to look for.  By working closely with your home architect, and familiarizing yourself with some of the basics, you can be assured a strong ROI on your new appliances.
The Right Finish Wins
One top trend that's here to stay is stainless steel.  While as a whole, design trends are constantly changing, but stainless has been a top pick for years, and there's no end in sight for its stylish, industrial-chic reign.
One great design benefit of using stainless appliances is that they typically work in a space regardless of color changes in walls or countertops.
Make Sure They Match
The use of stainless steel appliances can give the impression that you spent top dollar on appliances, regardless of brand.  But trying to incorporate random white or black pieces will quickly cheapen the look.
Size Matters
While stainless creates a feel of top-grade industrial appliances, bigger-is-better is no longer the right frame of mind. Home owners are choosing smaller, but smarter appliances that better fit their needs, instead of over-sized pieces that are more costly to run.
Energy Efficiency is Key
Now that you're looking for smart, matching stainless steel appliances, you will want to consider how "green" the models you are considering seem to be.  Energy-efficiency is a top focus among home owners, and with green technology becoming more affordable and available, opting for top-rated ENERGY STAR appliances will help recoup costs over time through lowered utility costs and energy tax credits.
Working with your home architect you can easily incorporate stylish, efficient and affordable appliances into your new home build or remodel that will provide your best ROI.