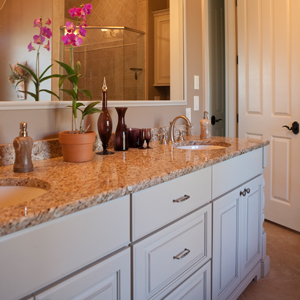 Innovative Bathroom Design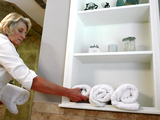 Quite often it's the unseen elements that aid in creating a space of relation and rejuvenation in bathroom design.
It's been estimated that if you live to be 75, you will spend a total of 1.5 years of your life in the bathroom. Why wouldn't you want to make this space a top priority when designing or redesigning your home?
Modern innovations have cleared the way for bathrooms to cater to our every need and desire while taking into consideration the new technologies. For example, toilets are no longer the simple necessities we've come to depend on. Ultra-modern toilets exhibit new specs like comfort design, high efficiency flushing systems, bidet and washlets, and even power lid systems and lighting built into the toilet's design.
Simple shower heads have evolved to mimic "natural" influences, with the trend towards rain-head designs, ceiling mounted shower heads, waterfall showers, and even chromotherapy lighting. Taking it a step further, the shower heads are commonly accompanied by side jets and sprays. Complete shower systems even allow for hydro massage and full temperature control and monitoring at the press of a button.
Picking out your flooring could take a little longer with new heating systems to keep your feet toasty on the cold tile, stone or hardwood flooring. These radiant heating systems install easily under your flooring and make a big difference throughout the year, especially during the colder months.
For those who want televisions in the bathroom, you can now look into the mirror to watch your favorite shows and news. Recessed mirror TV's are simple mirrors until turned on, then a TV appears within the mirror. This technology is an elegant way to save space without the clutter of a traditional television. The New York Times Company, R&D Lab has a new "Magic Mirror" in the works which showcases a human-computer interface with voice recognition to allow access the internet through the mirror. This new technology would allow you to check email, shop, access social networks and browse the web from the bathroom. Before long, we will be fully connected, regardless of the room we're in.
ACM Design can help you from day one to design and build the bathroom refuge you've been dreaming about. For more information contact us at 828-684-9884.

View a video of Amy Conner-Murphy showcasing her work on HGTV Remodels here: