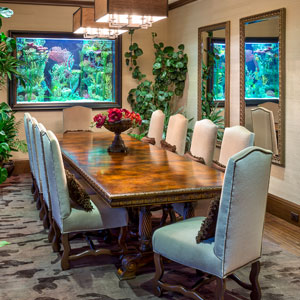 Secret Lighting Tips
Light Your Home Like a Pro!
Lighting can impact various aspects of our home. From affecting the mood of a room, the color of the walls and even the direction our eyes follow, lighting sources and selections are important to the overall design of a home. From bathrooms to kitchens and great rooms, homeowners should consider light placement as an essential part of the design process.
Here are a few lighting tips with images from spaces by ACM Design that illustrate these tips:
Dining Room Tip
Picking the perfect chandelier for above your dining table can anchor the room and draw the eye towards the table since it's the main feature of the room. Consider a chandelier that diffuses the light properly and avoids shining too harsh of light onto the faces below. For spaces with a considerably longer dining room table, the use of 2 or 3 lights may be necessary to illuminate the area properly. Also, the use of a dimmer is a great addition to the dining space.
Kitchen Lighting Tip
Pinpoint the work areas of a kitchen and highlight these spaces through the use of lighting. Task lighting is essential in the kitchen. Using various types of lighting such as pendants, track lighting, or recessed lighting is a great way to target the direction of light where needed, such as a bar or eat-in countertop. Under cabinet lighting is very practical in order to highlight other major work areas by keeping the light below eye level and focusing where the hands work.
Lighting Tips for Bathrooms
The bathroom is an area which needs to be well lit. Natural is best, but when it's unavailable, mixing the types of lighting works well. Using wall sconces on either side of the vanity mirror will help avoid harsh shadows which can be created by an over the mirror light fixture. Dimmers are recommended in the bathroom as well to create a soothing ambiance when needed. Another important tip is to remember the best wattage for bathroom lighting is between 75 and 100 watts.
Great Room Tip
The great room is often a space where people gather for extended periods of time. Here, it's best to layer your lighting with a mix of table and floor lamps as well as overhead lighting. The lamps are a great source of light for tasks such as reading. Mixing in some accent lighting such as strip lighting to emphasize a vaulted ceiling or track lighting to showcase artwork disperses the light throughout the room and directs your eye around the space.
The significance of lighting is reason enough to take a few moments to design your home with light placement as a priority. Mixing various forms of light can create balance and interest that otherwise would be lost with a single light source. Remember there are different types of lighting dependent on the functional need such as:
Feature or Accent Lighting
Highlighting the feature of a room such as artwork, an alcove/niche, other architectural features, etc.
Task Lighting
Lighting areas that need more light in order to carry out a specific task, such as in the kitchen for food preparation or a lamp for reading
Mood Lighting
Using lighting to affect the mood of a space, such as the use of a dimmer to create a cozy atmosphere
Placing lights at different heights and using different sources and intensities to avoid "lighting fatigue."  Try to "layer your lighting". This is a term used to describe the various layers of light you can create by adding multiple light sources such as lamps at different heights in a space combined with an overhead light source.
For more guidance on how to light your home like a pro, contact ACM Design today at 828-684-9884.