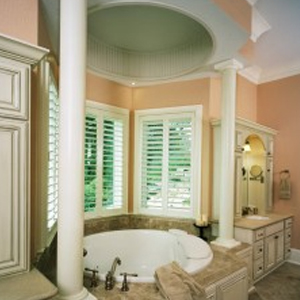 Bathroom Design Basics
Second to the kitchen, the master bath is the room in which homeowners typically spend the most money and aim to marry highly functional design with tranquil, spa-like materials and products. Working with a custom home architect affords endless possibilities to blend unique, custom features with practical and efficient bathroom design.
Before a custom home architect can begin the bath design process, it is important for the homeowner to become familiar with some of the basic trends and practices surrounding bath designs.
1. Layout
What do you hope to achieve from the bathroom's layout? Do you intend for it to be a daily oasis? Is it a place to get dressed and prepared for the day or night out? Or does your bath simply need to function efficiently? Although, the colors, materials and products that you choose for your bath can make a big design statement, in the end, the functionality of the bath design is the most important consideration.
2. Privacy and Openness
Many homeowners enjoy an open, ensuite bathroom that affords privacy yet feels tranquil, airy and open. This is often achieved through the use of glass doors, glass blocks or smaller partitions. For those less concerned with privacy, large, walk-in showers often don't need a door at all and offer a truly open feel. Rain showerheads are a soothing addition to a large shower, as they create a downward flow of water as compared to the angled spray of a traditional showerhead.
3. Lighting
Adequate lighting must be considered in any bathroom design. Rarely is one overhead light sufficient for illuminating the entire room. Because the bathroom serves many purposes, multiple light sources are ideal. Task lighting above the vanity provides general lighting at the sink area, but makeup application is made much easier with wall sconces at eye level on either side of the mirror.  Wall sconces or a candlier (candle chandelier) offer a nice soft glow surrounding the tub for a relaxing bath.
Future Design
For the homeowner hoping to live in the home for may years to come, adding universal bathroom fixtures and products can make the transition much easier as one ages. Benches in the shower are convenient at any age, but later in life, a bench can become essential. Walk-in showers with doors or openings wide enough to accommodate a wheelchair or walker is an example of universal design that does not detract from the opulence of the master bath.
With a functional layout in place, next think about the bathroom fixtures and hardware that are most desirable, such as the tub. In new home designs, some homeowners opt to delete the bathtub altogether to allow for an extra large shower.  Others prefer to install a large soaking or jetted tub for relaxation, and properly placed, a tub can add to the beauty of the room. Body sprays and multiple showerheads in a shower offer similar effects of whirlpools and jetted tubs.
Heated floors and towel racks add luxurious creature comforts to any bath.  Steam showers, vessel sinks, curved shower rods, and antique vanities add spa-like features and creative functionality to any bathroom design.
Think of the master bath as the ideal room to express your individuality. Once the basics have been considered, the overall aesthetic of the bath design starts to take shape and the fun begins.