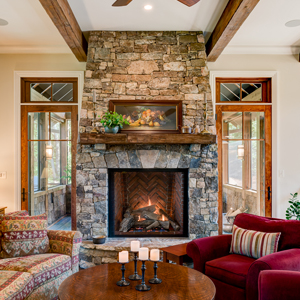 Fireplace Mantel Ideas
Inspiration for Beautiful Fireplace and Mantel Designs by ACM Design, architecture & interiors
Visions of a cozy fire will begin to flicker as temperatures begin dropping with the arrival of fall. This means that your fireplace, including the mantel and surround, will attract much more attention than during summer months.
Have you noticed that it may be time for a mantel makeover, especially since the holiday season is quickly approaching? It's easy to overlook this important design element of your home during the warmer months, but making a few minor adjustments to your fireplace mantel now can bring new life to your room during this time of year.
Mantel Materials
If you are considering replacing your mantel, there are many beautiful materials that will add character to your fireplace. Consider a rustic hand hewn slab of wood for a rustic craftsman or mountain style home. Other wood mantel options are available, as well as stone, brick, and even metal mantels. Each of these options offer varying colors and styles to meet your unique design style. Keep in mind, even if you don't want to completely replace your mantel, simply changing to a new paint color may be all you need to completely revive your fireplace.
Above the Mantel
Once you've selected your mantel material or paint color, dressing the top of the mantel will complete the look. First, you will want to incorporate a large scale detail as the anchor element of your design, so choose something that speaks to you and that will work with the style of your space. Some great choices include: mirrors, clocks, wreaths, or artwork. For those want to place a television above the mantel, consider the mantel height against the dimensions of your room to be sure that the TV will not be too high for comfortable viewing when seated.
On the Mantel Decor
The mantel top itself offers the place to complete the overall look by adding a few well selected design elements. The trick is to keep it simple. Candles, flowers, clocks, frames, photos, books, and other accessories are some options to adorn the mantel. This may take some trial and error to see what works best for your style and taste. Remember, the items do not have to match perfectly on each side, they simply need to balance. Select items of varying heights and materials to add visual interest. The mantel is the perfect spot to change out the decor for each season and holiday as well.
Lighting
Incorporating additional lighting to showcase your mantel decor can bring the final touch of drama. Bigger changes, like adding a ceiling light centered in front of your fireplace or sconces to each side of your fireplace can make a big difference. But simple, easy to add changes can hit the right note too, such as installing adhesive-backed LED strip lighting under the mantel or simply adding small string lights woven thru the mantel decor. There are many ways to add light to emphasize your great mantel design. Choose what works best for your space, electrical service and budget.
If you need help with your next project whether it's a custom new home design, interior design or renovation project, the professionals at ACM Design are here to help! Call us at 828.684.9884 or email us directly at info@acmdesignarchitects.com.