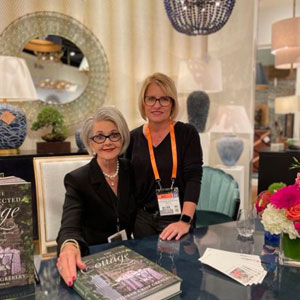 High Point Market 2022
We're back from visiting the High Point Market this fall. It was a busy time going from booth to booth, both exploring new vendors and visiting with our favorites. Valerie and I visited over 24 showrooms in just two days! We were actively shopping for unique decorative pieces and new furnishings for existing clients who's projects we are currently working on, as well as getting a sense of the new design offerings. What we noticed this year is that although there are new offerings, the quantity and volume is more limited than in years past. Speaking with our contacts, this is a continued response to supply chain issues. We've seen this throughout the economy, and with interior design vendors it is no different. The vendors want to be able to reliably source their products, so shrinking the size of the line allows them to do just that. We are however, still seeing long lead times compounded by shipping delays. The consensus was about managing expectations.
For lighting, the shipment dates are into the spring. And while some of the vendors have items in stock and ready to ship, if you want anything custom, you must be prepared to wait. This is especially true for upholstery pieces. There is an intra-dependency between all of the elements of a sofa, for example. In most cases, the furniture manufacturer relies on several different vendors to supply the component parts. The wood for the frame, the finished legs, the fabric or leather, and the foams and feathers all come from different supplies. If there's a delay with one, it can push back your finished piece by months. Fabric choices seem to be particularly limited at this time.
In order to achieve the look we're known for, we are opting for what's known in the industry as, "C.O.M"–which stands for customer-owned-material. We are directly sourcing the material for our upholstered pieces and supplying it directly to the fabricators. While this lengthens the overall process, it's the only way to create for our clients the spaces they are wanting.