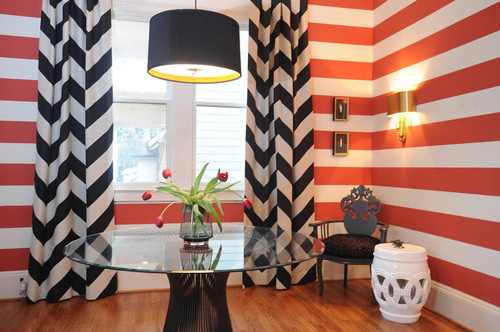 Interior Design Trends
What's new and inspiring in the world of interior design? Today's designers aim to please homeowners with an array of interior decor, furnishings, and design elements that blend through a collaboration of color, form and function. It's the collaboration of these details that drive current trends in interior design.
Textures – Whether on the walls, carpet or furniture, texture is everywhere. It's creating an intriguing texture which encourages people to use their sense of touch and adds a feeling of warmth and comfort to the space. By appealing to people's senses, texture can spark interest and conversation.
Stripes – Used in a variety of ways, stripes are seen as an added visual pop, a statement to the room. Stripes can be utilized to enhance a detail of the room, steer visual interest, and even blend a color scheme.
Natural Elements – Wood, stone and other natural elements are being incorporated in an unpolished, unrefined way. Incorporating the natural elements within interior design adds an intimate, homey feeling to the space.
DIY – With popular sites like Pinterest, people are taking it upon themselves to reproduce DIY projects for their home. For example, utilizing shipping pallets in a variety of ways from furniture to frames to garden walls are popular. Custom pieces with personal touch showcase talent and taste.
Industrial/Rustic – From metal bookcases to industrial lighting, these elements add warmth to the the often harsh lines of modern design.
Gold & Brass – Since antique furnishings are making a comeback, its not surprising there's a resurgence of brass and gold over the go-to metal, silver. These metals are used in light fixtures, plumbing fixtures, and accent pieces throughout homes.