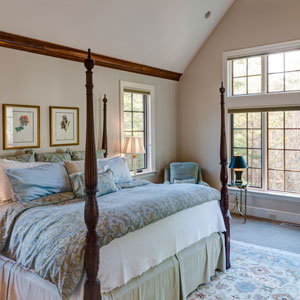 Making Houseguests Feel at Home
Do you have guests on the way and want to find ways to make them feel at home? Here's a quick list of ways to spruce up your guest quarters just in time for their arrival.
Bedding Make sure your linens are freshly laundered and pillows are fluffed. Even linens that haven't been slept on will need refreshing after a while. If you find your linens or pillows are worn, opt for high quality replacements. Often times guests are too polite to bring up any complaints.
Luxurious Details Think like you're in a luxury hotel. Consider adding a luggage rack to the room, filling the guest bath with fresh towels and toiletries like soap, shampoo and conditioner, and lotion. Providing a soft bath robe is an extra touch that will make guests feel right at home. Incorporate other luxurious items that you'd expect at a hotel.
Treats Everyone likes to indulge, especially on getaways. Leave some chocolates, candies or other treats, like granola bars and chips in the room for your guest to snack on. Also, remember to stock your fridge with fruit and fresh snacks. Be sure to let your guests know they can grab whatever they'd like.
Water In addition to snacks, don't forget your guests' thirst. Leaving some bottles of water or a water filled carafe in the guest room is a great way to help guests feel at home. This is much easier for your guests to find and enjoy, rather than wandering around the kitchen at night looking for a glass to fill with water.
A Good Read If you know just what your guest likes to read, grab some recent books or magazines to appeal to their tastes. If you aren't sure just what they like, opt for a variety of magazines that might suit them, or even a travel book for the area so they can plan things to do in their spare time.
Lighten Up We often don't spend a lot of time in our guest room, so take time to make sure there is plenty of light in the space. Check light bulbs for proper functioning. If there isn't enough light, don't leave your guests in the dark, purchase a table side lamp to brighten up the space.
Personal Touches Depending on the guest, you may have a photo with them in it. Grab a nice picture frame and display the photo proudly on a side table or dresser. They will be pleasantly surprised when they see it.
If you need help redesigning or decorating your current space, ACM Design can help! Our team of architects and interior designers can help you with your next project. Contact us today at 828-684-9884.