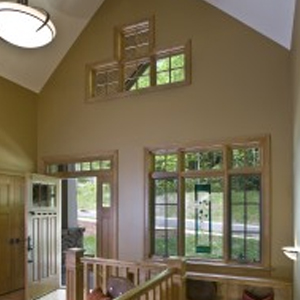 Paint Color Trends for 2010
Experts say that even our color choices have been affected by the state of today's economy: safe with a splash of hope.  Consulting your home design team is the best way to match up the right color to the right space.  But we've compiled a few highlights to help get you started.
Neutral Colors
Safe neutral tones ranging from cool gray to warm caramel continue to reign supreme.  Solid colors, clean lines and many diverse shades of brown create comfortable, relaxing spaces.  Though shades of gray ranging from battleship to hematite are quickly becoming the new favorite.
Neutral tones create the perfect backdrop for furniture, artwork and even decorative borders and trims.
Bright Colors
Brights ranging from cherry red to vibrant emerald are making a splash as accent colors.  Jewel tones add light and life to a space without sacrificing the calming appeal.
Cause-Inspired Color
Some unexpected forces behind the top color picks in home design are social causes.  Special cause ribbons in pink and red may be popping up on lapels and blouses across the country, but they are also making their way into peoples hearts and finally, their homes.
Color Combinations
While blue and brown pair beautifully and have been a favorite for years now, black and white is gaining speed, as are earthy, eco-friendly combinations.
Finding the right colors for your home may seem like an intimidating project, but at ACM Design, we have years of expertise and experience in home décor to maximize the appeal of any space.