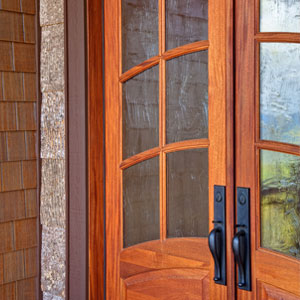 Spring into Spring with a New Entrance
Many people are anxious for Spring's arrival and have already started looking for ways to bring new life to their home. For many homeowners, the front entrance is often overlooked because many typically enter their home each day thru the garage. But for guests, the front entry is the first thing they see; therefore, making the very first impression of your home. This first impression can be positive and welcoming, or it can be negative and lackluster.
Before you begin, it's important to understand various elements of the front entrance that should be considered in your front porch renovation. Looking closely at the anatomy of the front entrance will help you determine your focus for improvements:
Front Door: Try a new paint color for your front door. Some great color trends to consider include bolder shades of red, blue or green. Don't forget the impact a new door hardware set can make on the front door, with numerous options that create quite a statement to your guests. Finally, add a simple kick plate to your front door to really enhance the appearance and appeal of the front door.
Address Numbers: Every home has them, but do yours stand out from the crowd? It's easy to dismiss replacing your home's address numbers, but spending a few more dollars on an elegant design can make a difference to the entrance of your home.
Lights: If you are like many homeowners, the front porch light hasn't even been considered in years. Don't go another year with the same tired light fixture. Lighting has come a long way with many options, styles, and colors available to find the perfect match for your home.
Railings, Decking and Other Material: Over time, the elements can do a substantial amount of damage to the decking, railings and even concrete, brick or stone. Take a close look at the condition of your front entrance, from the perspective of someone seeing your front entrance for the first time. Has the paint chipped off your steps? Do the railings need tightened? Are there loose bricks? Now's the time to improve the appearance and stability of the front porch steps and decking.
Paint & Trim: Keeping the paint on your home looking pristine does wonders for the exterior appeal of your home. Ensure the main body of the home along with the trim are cleaned and appear as vibrant as ever. Continue the upkeep on the front steps and sidewalk, since these provide the pathway for guests into your home.
Door Mat: Don't forget to have a welcome mat that also traps dirt of the shoes of guests. While it may seem like a simple thing to overlook, enhancing the door mat adds an extra pop of interest as guests arrive at your front door, and can even be the topic of conversation after they enter.
Doorbell: Even your doorbell can gather a lot of attention with guests. Have you taken a look at all of the options available for door bells? From traditional to custom designs doorbells come in many shapes and sizes, so take time to pick the perfect doorbell for your home.
Furniture: If you have ample room for furniture on your front porch, utilize the space with size appropriate furniture and bring some of nature to your porch with potted plants. However, don't crowd the space. Add just enough to say "welcome." You want to create an area that reflects your style and acts as an extension of your home, providing usable seating for enjoying the outdoors.