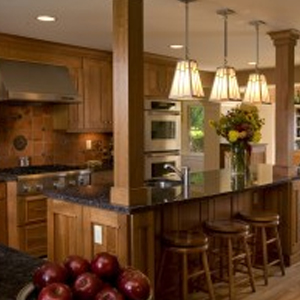 Top Home Features for 2010
If you're building a new home or remodeling your existing one this year, here are five of the top trends you can really get behind.  And if there's one thing that these top home design features have in common, it's energy efficiency.
Smaller Spaces:  As the home market begins to show signs of improvement, home owners are taking hard-earned lessons with them and seeking out smaller, but smarter spaces.  Ample and well thought out storage space, open floor plans and family-friendly features are just a few of the ways in which smaller homes are taking the lead in home design.
ENERGY STAR Appliances:  Kitchen appliances alone can burn up almost 10% of your home budget, and investing in the latest energy efficient models is a smart investment.  Most ENERGY STAR appliances quickly recoup their value in energy savings, and prove good long-term investments.
Better Insulation:  Tightly-sealed insulation is one of the best money-saving investments you can make in your new home.  Foam sealants and better insulation help keep homes warm in the winter and cool in the summer, greatly reducing annual energy expenditures.
Net Zero Energy:  Net zero or "off the grid" homes actually generate more energy than they use up.  With net zero technologies rapidly increasing, converting your home to an energy maker may be easier and less costly than you think.
Outdoor Rooms:  With indoor square footage decreasing, an outdoor room is an excellent way to gain useful square footage in an area you may be taking fore granted—your backyard.  Outdoor living rooms and kitchens add great entertaining space to any home.