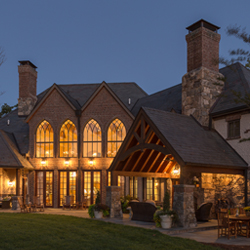 Year End Checklist
Many homeowners conduct an annual "spring cleaning", but it's important not to forget to ensure your home is ready for winter. Taking steps towards preparing your home for the cold months ahead will help prevent potential problems and costly repairs down the road. We've compiled a list of some areas of your home you should consider when preparing for the cold days of winter ahead.
Heating Source (and Generator): With the warm fall we have had so far, you may not have even turned on your heat yet, so make sure your HVAC unit is ready. Schedule 

an annual tune-up on your furnace or heat pump. If you have a generator, now's the time make sure it's fueled up and in working order as well. 

Chimney: It's very important to have your chimney professionally cleaned and inspected if necessary. Throughout the year, animals can build nests, and deterioration can occur from previous years' use.
Humidifiers: It's time to change out the filters and make sure the humidifiers are working. Your dry skin and sniffles will thank you.
Check & Replace Batteries:Year end is the perfect time to replace the batteries in your smoke detectors and carbon monoxide detectors. While you're changing those batteries, make sure the batteries in flashlights are fully charged.
Outdoor Equipment & Furniture: Before snowflakes start falling, clean and store summer furniture and gardening equipment. Drain all the fuel out of gas operated equipment, drain hoses and prep your faucets for any deep freezes that might damage your pipes.
Plantings: Late fall and early winter is a great time for planting. Take advantage of some end of season sales on plants, shrubs and trees, and give your landscape an update.
Roof & Gutters: After the leaves have fallen, don't forget to clean out the gutters. A lot of leaves, nuts, sticks and other debris can clog your gutters, rendering them useless when heavy rains and snows occur. While you're cleaning the gutters, take time to look over your roof for any loose shingles or other damage.
Windows & Doors: Make certain all the areas that are prone to drafts are sealed and caulked properly. Valuable heat and dollars can sneak out those cracks in no time if they aren't taken care of.
Your home is a great investment and requires a lot of care and maintenance to continue working properly and retain it's value. These are just a few of the areas of your home you should give attention to before winter arrives. Additionally, year end is a great time to consider a renovation or remodel on your home. Design work and drawings can be completed during the winter months to prepare for construction in the spring. If you need help from qualified professionals who can help you every step of the way, contact the design team at ACM Design for information on our residential design services at 828-684-9884 or email us at info@acmdesignarchitects.com