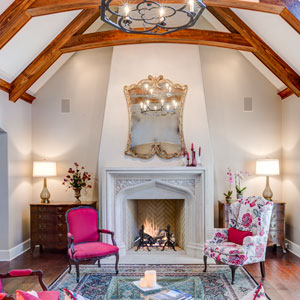 2015 Trends in Interior Design & Architecture
Each year, new design trends emerge which we implement throughout the coming year in our homes. As our lifestyles evolve and change, so do our design choices in both architecture and interior design, and this year is no different. While there are a few design trends which remain from 2014, there are a few new directions that are exciting for residential home design in 2015.
Furniture Style Features in Kitchen & Bath
Some cabinetry is taking on a new look, steering more towards the look of furniture than the traditional built-in appearance prominent for many years. As the kitchen has increasingly become the focus of the home, the style is evolving also. Furniture-like cabinets include those with feet, custom details, insets and custom trim. This trend is very evident not only on cabinetry in the kitchen, but the bathroom as well, with some vanities constructed out of re-purposed furniture pieces.
Wall coverings
Wallcoverings have adorned our walls on and off throughout the years, but a new age of wallcovering is here. Elegant designs with metallic sheen and geometric patterns or textures are cropping up all over. These wallcoverings are not only beautiful to the eye, most are easier to install and remove than wallcoverings of the past. Some wallcoverings are even able to be repositioned which is attractive for kids rooms, those who like to change the design of their home often, or for apartment living.
Stand out Accents
Marsala may be the 2015 Pantone Color of the Year, but we predict many other bold colors will be employed throughout interior spaces. From bold blues to pops of pink, interiors will be adorned with stunning accents, adding depth and balance throughout spaces. To make these bold accents stand out even more, a resurgence of neutral wallcoverings creates the perfect backdrop to more lively accents. Another prominent accent to watch for is metallics. Gold and brass fixtures and furnishings are expected to make their mark in 2015.
Two Stories
From the foyer to the family room, ceilings are reaching new heights in luxury residential design. The elevated ceilings accommodate homeowners desire for a dramatic statement while creating open, light filled spaces. Architecture and interior design have seen a distinct shift towards open-concept living between the living, dining and kitchen spaces over the past few years. Two story design in foyers and family spaces takes the open concept to the next level as homeowners aim to create open, inviting spaces that feel more like a retreat.
Outdoor Living
Carrying over from 2014, an emphasis continues to be placed on outdoor living design. Homeowners want to utilize as much of their property as possible, and expanding the living space to the outside allows them to enjoy everything the outdoors has to offer from the convenience of their own home. Outdoor kitchens, pavilions and patios are designed to act as an extension of the the main home, providing everything from additional living space to a complete second kitchen outdoors.

These are just a few of the design trends you can expect to see in 2015. For questions on how ACM Design can help you with your next interior design or architecture project, contact us at 828-684-9884.