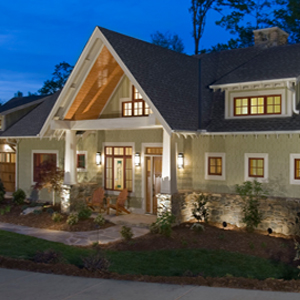 Asheville Parade of Homes: Reaping Inspiration & Exploring Mountain Communities in WNC
Western North Carolina has welcomed fall with cooler temperatures, colorful leaves, the first droves of tourists, and most recently the annual Asheville Parade of Homes.  Held on back-to-back weekends in early October and hosted by the Asheville Home Builders Association, the Parade of Homes offers individuals and families the opportunity to explore quality built homes at their own pace. Many people used this time to shop for a new home, meet area builders, or to get ideas and inspiration from the latest trends to use in their home.  For those who wished to learn more about the communities in Asheville and Western North Carolina, the annual AHBA Parade of Homes was a great way to explore exclusive mountain communities.
The AHBA Parade of Homes offered free admission for self guided tours in several mountain communities such as Poplar Ridge, the Ramble, Grove Park, Reems Creek, Biltmore Lake, and Pinebrook Farms to name a few.  Each home visit provided more than just a tour by offering insight to the perks (or downsides) of the community as well.  It's important to understand and look for what's important to you as a homeowner, such as communities amenities, distance to work or transportation, local schools, security, and even ordinances or proposed projects that might affect you.  For many the community is just as important as the home, and here in Asheville, we have a variety of communities to fit your needs.
Beyond each Parade of Homes threshold, visitors were offered a dramatic insight to custom home trends sweeping the nation.  Everything from custom cabinetry and expansive outdoor living spaces to sustainable design, green features, and open floor plans were highlighted in the Parade of Homes designs.  Often times, seeing a design firsthand makes all the difference, especially when planning your own custom home.  With so many quality builders and suppliers of custom products located right here in WNC, building and designing your own custom home is not only possible, but a fun and rewarding opportunity to create a unique house for you to call home.
When looking to remodel your existing house or build your own custom home, consider area tours or expos for ideas. Some to mark on your calendar are:
Montford Tour of Homes – Saturday, December 11, 2010 : Montford Tour
AHBA: Home & Garden Expo – April 16-17, 2011 : AHBA
WNC Home Show –  March 18-20, 2011: WNC Home Show
Working with an experienced and knowledgeable architect is an important step in the planning of your new construction or remodel. For information on how to start the process of designing and building your own custom home in Asheville or Western North Carolina, contact ACM Design.