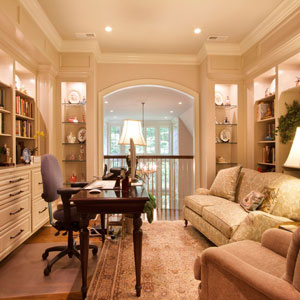 Home Office Design:Transition from Option to Necessity
Are you one of more than 34 million people who work from home?  If not, by the year 2016 you could join the estimated 63 million people who will telecommute.
There is no doubt our world is becoming more technologically advanced, and as a result, our lifestyles and "living-styles" are evolving to keep pace with these changes. Our economy has garnered major shifts in workplace practices and environments. Recent technological advances have enabled workers the ability to work remotely quite easily, and the shift towards working from home is affecting the overall design and architecture of residential spaces.
As our homes become more than our place to gather, to rest, to dine, and to celebrate, there are several considerations to make when defining a space deemed our place of "work."  Carefully considering your type of work and how your work space can make your tasks more efficient is important.  Whether you are renovating an existing home or designing a new home to include a home office, consider the location of the workspace relative to the home's overall accessibility, natural traffic flow, and natural lighting. Choose a location that is optimal for your nature of work.  If you need a quiet area to focus, select a space that is somewhat secluded.  If you will be meeting clients, locate the home office near an exterior entrance.  If you are catering or baking, carefully consider your kitchen layout and accessibility for deliveries.  Examining your lighting source is crucial too, in order to avoid eye strain work.
Designing a space that facilitates productivity is a priority when it comes to the home office. Consider dividing your space according to your common activities.  For example, you can create a meeting area where you interact with clients, vendors, etc.; a copy/print center where you might create your marketing materials; or a work center where you may assemble products for sale.  Identifying a space for each of your needs will not only create a well organized office, but promote productivity which in turn means more profits.
Finally, consider the amount and location of storage space; the location and electrical requirements to power your computers, printers, and other equipment; lighting and fan locations; as well as your square footage needs.  Designing an office space that is specifically geared towards your needs will aid in making your work efficient.  Don't forget to add personal touches of photography, art and accessories to give your space a feeling of comfort.  One perk of having your home office is the ability to integrate your own style into the interior design of the space.  The professionals at ACM Design Architecture & Interiors are well versed in home office design as well as interior design for any space of your home. For information on our services, call us at 828-684-9884 or email us at info@acmdesign.net