First Time Home Buyers
Posted in Home Design, Trending on by Amy Conner-Murphy
First Time Home Buyers and Home Design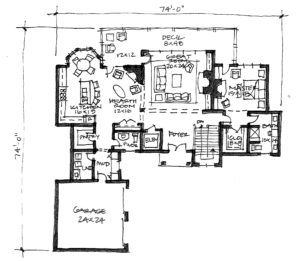 Each year, more and more people join the ranks of first time home buyers in taking on one of their greatest investments to purchase their very first home. The purchasing process can often be tedious, but is balanced by the fact that once the sale is complete, you have the keys in hand to your very own home. But don't be surprised to learn that there is still a long list of things to do. A home does not decorate itself, it does not measure and place furniture, it does not paint the walls or coordinate fabrics, and it does not plan for the future.

After you purchase your new home, it's understandable that you may not want to spend thousands more on renovating or decorating your new pad. A blank canvas can certainly be intimidating so we have put together a few tips and tricks to turn your house into a home that suits your needs and your lifestyle.

Plan Ahead:
We cannot emphasize this step enough…planning ahead will save you time, money and headaches. Budget, research, measure, and repeat. Budgeting your project from the start will set your expectations and keep your pocketbook happy. Establish rooms and items that are a priority and budget accordingly. Then the fun begins. Research styles and designs to learn what you like. Websites like Pinterest and Houzz make it easy to choose styles, colors, and designs that appeal to your sense of style. Measure your space and the furnishings you want to purchase to be sure that the furnishings will fit. There's nothing like finding the perfect sofa and getting it home only to find out it does not fit in your space. Repeat these steps until you have a clear idea of how your want your rooms to flow and how you want your style to radiate throughout.
Shopping List:
Here, you will determine the necessities that you need to purchase now.
Investment Pieces: We recommend focusing your efforts of key pieces of furniture that will last. Purchasing quality items that are timeless in style will prove beneficial in the long run. If you change your mind on the overall style of a space in the future, it's easier to transition the space if your larger items are adaptable to different styles. It's also easier on your budget in the long run. Quality pieces to focus on could be: sofa, dining table, bed, dresser, etc.
Lighting: Lighting is a key design element in any space. The right lighting can set the mood for the entire room or simply provide task lighting or highlight art. In fact, the lighting can even act as a statement piece for the room. Select key areas where lighting will truly make the greatest impact on the space. Lighting can get expensive, but be careful about reviewing the quality of less expensive fixtures. You may find that spending a little more money up front for better quality lighting may actually save money in the long run because you won't have to replace items of lesser quality.
Flooring: Many first time home buyers are fortunate enough to score hardwood flooring in their first home. If not, you may want to add flooring options to your shopping list. Flooring comes in many shapes, styles and budgets. As with investment pieces above, we recommend selecting flooring that will endure, both on style and durability. If replacing your flooring doesn't fit your budget, consider using area rugs to transform your space.

Important Design Considerations:
Needs vs. Wants: Obviously it would be great to get everything on your wish list, but that's not always possible. Weigh the importance of each item and label it as want or need. Do you really need that expensive wall hanging or is a sofa more important? It may be hard at first, but remember, purchasing a good quality investment piece and adding details as time goes on is the better way to stay on budget now. It also allows you time to consider style options as your taste may change over time.
Flex Spaces:Do you have a space that will have multiple uses? Or maybe a room will begin as one thing, say an office, and transition to a nursery as you grow your family? Keep all future plans in mind for these spaces while purchasing items. Is an object or piece of furniture that you may like now really worth the high price tag if it's going to sit in storage after a year or two of use?
Matchy Matchy is Out: Everything does not have to match perfectly with one another. In fact, homes are often more interesting visually if they have that curated look of being put together over time. Remember, your home is reflection of you and should be just as unique as you are. Mixing patterns, textures and colors are great ways to express yourself and keep interest and appeal in your space.
Don't Fill Up the Space:  Many first time home buyers start off thinking they need to fill every nook and cranny with furniture, art, and accessories. Rather than filling up the space, we recommend leaning more minimalistic to begin and practicing clutter control. You may find that "less is more."
Take Your Time: Give yourself time to "live" in the space before committing to a design direction or making too many purchases. Understanding your life patterns and how you move through the spaces will assist with optimal placement of furnishings. Learning how natural light moves through your space as the day progresses often dictates how rooms are used, where you like to hang out, the lighting fixtures you need and even down to the paint colors you choose.
At ACM Design, we realize every stage of life presents its own challenges when it comes to home design. Our team of design experts are available to help guide every generation of homeowner from the early planning stages throughout the entire home design process. Whether you have need help designing a new custom home, renovating an existing one or simply need help with interior design, ACM Design can help. Contact us today at 828-684-9884 or info@acmdesignarchitects.com
Don't forget, we have a series of predesigned house plans that may meet your needs! Check out our Signature Series of Predesigned Plans today.